Al Robbins' (Free Spirit)
FALL '99 Appalachian Trail (AT) hike

Appalachian Trail Journal Part 2
Dates ........ SAT OCT 2, 1999
Miles ........ 15.8 miles
From ........ PA - Delaware Water Gap
To ............. Wind Gap PA - End of journey.
Weather ... 30's A.M., foggy, then clearing and warmer - 70's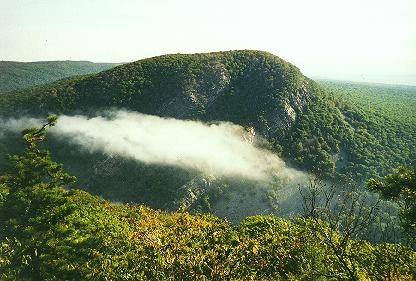 SAT OCT 2, 1999
MT MINSI - WOLF ROCKS
I eat breakfast - baked goodies from DWG bakery - and leave the hostel with my fellow hikers still sleeping. I had a great night and LOVED THE HOSTEL EXPERIENCE. I wonder when and how many of them will catch up and pass me by today. I am traveling very light - only a fanny pack (camera, map and guide, compass, lighter) and my mini pack bag that doubles as a clothing sack and pillow - it carries my water jug, first aid kit and lunch. Cold and foggy, I wear 3 shirts and my pant legs starting out but by the time I reach the sunshine above the clouds on MOUNT MINSI I remove all but my tee shirt and short pants. I pick up an extra hiking stick left at the hostel by another hiker.
The climb up the mountain is beautiful. The Delaware water gap and hike up MT MINSI is what inspired me to hike more of the AT. I get a great and unique photo of THE GAP - just as a cloud of mist drifts by its face. Then on top of the mountain it is one series of great views after another with easy dirt road walking to boot! A favorite view and photo looks back north along the mountains at the Delaware Water Gap into New Jersey and the ridge of mountains I hiked this morning and yesterday.
WOLF ROCKS are a surprise. I thought " OK - here's another rock pile to climb over, then the trail resumes on the other side." WRONG. It climbed onto WOLF ROCKS, turned, and stayed there, following the ridge. What a beautiful mass of solidified silica. Views are many and spectacular. Each step must be planned, though, as many "holes" are in these randomly stacked rocks. I must be especially careful of my injured foot.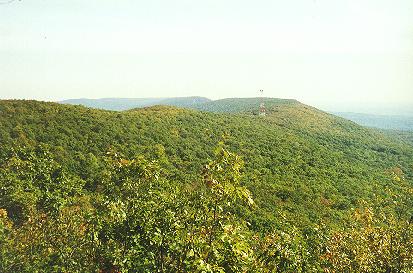 After Wolf Rocks the trail becomes terribly rocky through the woods. Lots of sharp pointed mountaintop poking through. I visit the Kirkridge Shelter for a rest and water supply, then move on. I sign my last register. I meet two groups of scouts hiking to Wolf Rocks, I asked the last one how much further the rocks on the trail continued and a pout faced boy quickly and loudly respond "forever". He was almost right. The difficult trail, though nearly level along the ridge, continued until the steep descent into Wind Gap.

But I made it. John picked me up in Wind Gap and another great adventure draws to a close. It is good to be home but I wonder when Appalachian Trail Fever will hit me again.

Daily Journal Entries
~ Journal Part 2~

Hiking Partners Wanted
Spring/Fall hikes - 15miles/day - Contact Al.
aljohn@jmclum.com
.
Last Updated 5/4/2000