Al Robbins' (Free Spirit)
FALL '99 Appalachian Trail (AT) hike

Appalachian Trail Journal Part 2
Dates ........ WED SEPT 29, 1999
Miles ........ 12.5 miles
From ........ NJ - MASHIPACONG SHELTER
To ............. AT to BRINK ROAD (Bear Heaven) SHELTER
Weather ... Mild morning, very cloudy day. Dark in the woods. Overnight rain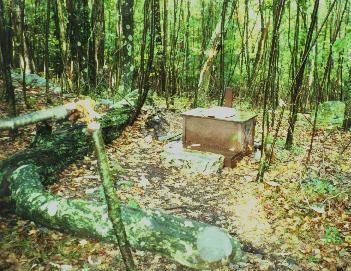 WED SEPT 29, 1999
KITTATINNY MTN. CULVER fire tower
Following the Kittatinny Mtn ridge, ever closer to home, it is a series of mild ascents and descents along the ridge then a hefty climb up Sunrise Mountain. At the Sunrise Mountain pavilion, 8:30 A.M., one can see practically nothing because of wind driven mist and fog coming up the mountain. I'd hoped for a view from atop this high, sharp ridge. I take the side trail to Gren Anderson Shelter for rest and water. I'm surprised how close to a road it is. I meet a northbound section hiker and we chat.
I climb again, reaching the Culver fire Tower at 1500 feet. On the way up I meet up with a bunch of special camp kids coming down - their jovial spirits reflecting the good time they are having. My next stop is Culvers Gap and Worthington's Bakery as advertised in the guide and reputed in trail register entries to have great yummies. DAMN! The sign on the door says OPEN - the fine print says Friday, Sat, Sun and gives the hours - they just closed for the season??? I call home and push on, Past Kittatinny Lake along the ridge to the Brink Road Shelter.
Along the unpaved and closed road near the shelter, a mud spot contains fresh, interesting signs of recent wildlife - raccoon and BEAR prints. A local couple, very nice people walking their dog, warn me that bears are everywhere around here. Signs say the same thing and the register is full of bear sightings. I keep my camera at ready, hanging from my neck, hoping to get a bear photo. Share the shelter with Sasquatch and Crash, 2 southbound through hikers.
The PRIVY is most basic and UNIQUE. No odor - no privacy, No door, roof or walls - just an open throne with a seat over a hole in the ground. The economy model. A little drafty. Bring an umbrella if its raining, an ice scraper if its cold weather. TRULY UNIQUE to my experiences.

Daily Journal Entries
~ Journal Part 2~

Hiking Partners Wanted
Spring/Fall hikes - 15miles/day - Contact Al.
aljohn@jmclum.com
.
Last Updated 5/4/2000