Al Robbins' (Free Spirit)
FALL '99 Appalachian Trail (AT) hike

Appalachian Trail Journal Part 2
Dates ........ FRI SEPT 17, 1999
Miles ........ 17.6 miles
From ........ MA - GLEN BROOK SHELTER
To ............. Salisbury CT via Race Brook Falls trail and Rt. 41 to CT - LIMESTONE SPRING SHELTER
Weather ... Extremely windy, cool 40's, cloudy and overcast.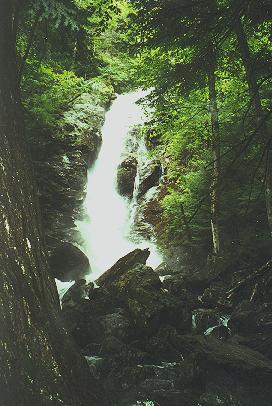 FRI SEPT 17, 1999
Mt. Everett (2602') - Race Brook Falls - Salisbury CT
Morning finally came after one helluva a stormy, restless night. It had stopped raining sometime overnight, but the stream was so noisy that we did not know when. The stream receded nearly as fast as it rose, dropping to less than 1/4 of its previous torrential flow this morning when I ventured out for a photo. The wind remained very strong and gusty, still bringing down trees and branches. Time to move on.
I put the rain cover on my pack, my heavy rain parka on me,. It was cooler after the storm. No choice - I ford Glen Brook at the trail crossing - no chance of keeping feet dry today. The trail itself was under flowing water in most places. Downed trees, branches and leaves were everywhere. I climbed the summit of Mt. Everett, took some photos, watched the fire tower sway in the wind, and got blown over twice myself. The wind felt like holding your arm out a car window at throughway speeds. The wet rock top of the mountain made it treacherous going.
I took the blue blazed Race Brook Falls Trail down to the valley to get off the wet, rocky windy summit - and away from the falling trees and branches. I had 5 more stream fords ahead of me, most in knee deep water. And Race Brook was racing. The 100 foot falls were spectacular: Roaring and crashing with thunderous power. The lesser lower falls were too, what could be seen of them. The basin and trail was totally clogged with downed trees, their leaves still on. Finally I reached MA route 41 which crossed the MA/CT state line and went into Salisbury CT - a neat little tourist town, welcome food stop (bakery) and chance to call home to relieve loved ones' anxiety.
When I picked the trail back up at Route 44 just north of town there was a cooler full of soda, beer and sandwiches. I quaffed down a soda and climbed Barrick Matiff through thick hemlock forest- Wetauwanchu and Prospect mountains - to LIMESTONE SPRING lean-to. Just before the lean-to and after the GIANTS THUMB rock formation, the trail broke into a high field affording spectacular views of the Taconics, Bear Mt, Mt. Everett, Jug end and, off in the hazy distance, Mt Greylock. My reward for the day's efforts.
This was to be my first night in a shelter full of southbound through hikers. It was an unforgettable experience. There was Rolling Tide, Slip Knot, Soot, one other and Quick Beam arrived after 8 P.M. by flashlight. Trail talk was lively, centered around the storm.

Daily Journal Entries
~ Journal Part 2~

Hiking Partners Wanted
Spring/Fall hikes - 15miles/day - Contact Al.
aljohn@jmclum.com
.
Last Updated 5/4/2000