Al Robbins' (Free Spirit)
FALL '99 Appalachian Trail (AT) hike

Appalachian Trail Journal Part 2
Dates ........ TUE SEPT 14, 1999
Miles ........ 15.2 miles
From ........ MA - TENT near Knee Deep Pond
To ............. TENT just south of Lake Buel swamp.
Weather ... Warm 55 degree night, 65 degree, cloudy humid morning, 70 degree hot and humid day.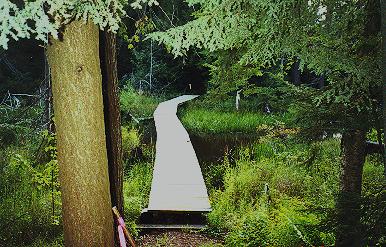 TUE SEPT 14, 1999
BARRED OWLS -- TORNADO wrecked woods
Sleep was interrupted by a loud car-siren, barking/howling coyote like animal call in the middle of the night. Several of these creatures were calling to one another - some close, some distant. I'd never heard the sound before and it was very eerie. Later in the day as I was crossing Tyringham Bog on wooden bog bridges, I met a charming biologist doing field research. She told me those sounds belonged to a BARRED OWL and gave a perfect imitation of it, along with imitations of a screech, barn, and great horned owl calls.
I crossed the overgrown bog, loaded with ticks and mosquitoes, climbed up to Cobble Reservation - a private wildlife management area, bypassed WILCOX north and south LEAN-TOs. I was passed by four southbounders and one NORTHBOUNDER - Wee Willey the Prince of Whales - a corpulent, jolly fellow with a big beard, 60's boy scout backpack and large knife on his belt. He's late for a northbounder (to make the 800 miles to Katahdin, Maine) and says he'll go as far as he can until bad weather sets in.
I pass through the Benedict Pond park, Livermore Peak, and descend through woods ravaged by a tornado in 1995. Only the trail clearing efforts of the maintenance volunteers made the jumble of twisted, broken and uprooted trees passable. The local chapter of Children of the American Revolution have become TRAIL ANGELS by placing a cooler full of spring water and soda in this area where potable water is scarce. I come off the hill and cross the road leading to Great Barrington MA, spot a bunny along the trail, and cross the Lake Buell feeder swamp. Now near dark, I am tired so I find a nice spot in the woods not too far from the swamp's dam to set up camp.
The news / weather forecasts have been warning that remnants of hurricane Floyd may reach New England in a couple of days. Wonderful.

Daily Journal Entries
~ Journal Part 2~

Hiking Partners Wanted
Spring/Fall hikes - 15miles/day - Contact Al.
aljohn@jmclum.com
.
Last Updated 5/4/2000