Al Robbins' (Free Spirit)
FALL '99 Appalachian Trail (AT) hike

Appalachian Trail Journal Part 2
Dates ........ WED SEPT 15, 1999
Miles ........ 15.5 miles
From ........ MA - TENT near Lake Buel swamp
To ............. GLEN BROOK SHELTER.
Weather ... Very warm 65 degree A.M. dead air - humid - hot - very hazy - cloudy, then late afternoon light rain.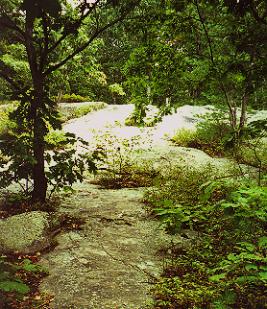 WED SEPT 15, 1999
ICE GULCH - EAST MTN LEDGES - JUG END - MT BUSHNELL
Pass by TOM LEONARD shelter and the SB'ers that were staying there (Quick Beam, Rolling Tide, Slip Knot, Panama Red) catch up and pass me. Reach Ice Gulch - a phenomenally BEAUTIFUL gulley formed of ROCK and WOODS. Then trail climbs East Mtn and goes along rims of its LEDGES View is awesome, though obscured by thick haze. My feet hurt so I switch to sneakers for a while. Descend Mtn, cross road and loop behind house seen in valley. Ledges of East Mtn are now across the valley from here.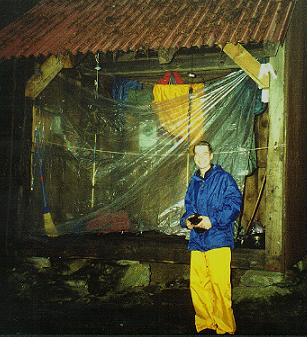 Cross Housatonic River and valley, Pass Shay's Rebellion monument, Cross swamp (Out of water and not wanting to filter the muddy brown swamp water, I get water from a nice trail neighbor) and white pine forest (there is a spring at mountain's base) and begin climb up Jug End and Mount Bushnell. Meet Quick Beam again on way up. Multiple summits make you think you've reached the top. NOT. Haze obscures views. Getting dark and starting to rain, I am on top but still some distance to go to GLEN BROOK SHELTER - but Quick Beam is there ahead of me. I yell out to avoid missing blue blazes and passing shelter by.. Finally I see the side trail to the shelter and Quick Beam. I get water from the trickle of a nearby stream, cook supper and batten down for a stormy night. We cleverly rig a plastic sheet in front of the shelter to keep out wind driven rain, retreat to the rear corners of the shelter and turn in for the night. The rain gets heavier and heavier.................and heavier.........
The Lean-To is on the East side of Mt Undine, on a triangle of rock and forest just below its cliff edge ridge, sitting on a huge rock promontory with a stream gulley on either side of it and a cliff edge front and back, the AT running across its top. Both streams cross the AT.

Daily Journal Entries
~ Journal Part 2~

Hiking Partners Wanted
Spring/Fall hikes - 15miles/day - Contact Al.
aljohn@jmclum.com
.
Last Updated 5/4/2000