Al Robbins' (Free Spirit)
FALL '99 Appalachian Trail (AT) hike

Appalachian Trail Journal Part 2
Dates ........ FRI OCT 1, 1999
Miles ........ 10.3 miles
From ........ NJ - AMC Mohican Outdoor Ctr TENTSITE
To ............. Delaware Water Gap PA
Weather ... very cold 35 degree AM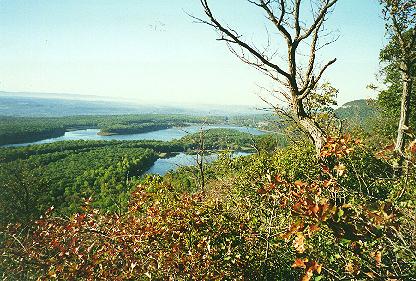 FRI OCT 1, 1999
HOSTEL experience - Church of the Mount, DELAWARE WATER GAP
It is a very COLD morning, but I am anxious to do this last NJ leg and get back to PA. I climb up from the Yards Creek gap back onto Kittatinny Ridge. In many places the trail here is along a rock cliff edge. A misstep could be fatal. The views are sweeping and inspirational. THIS is why I hike - its the only way to experience this beauty up close and personal.
The ridge and trail passes the Yards Creek pumped storage ponds and then takes you over to the other side of the ridge where you can see the DELAWARE RIVER . It is very rocky, with pointed sharp rocks sticking up from the trail. These rocks don't move - they are the tips of the Appalachian Mountains breaking through the surface of the trail. They require careful walking, to say the least. Now I know I'm near Pennsylvania.
The trail leading to and from SUNFISH POND is very poorly marked and confusing with so many other trail junctions. I am slowed down considerably trying to find trail markers and have to navigate by map in many sections. Sunfish pond is clear, beautiful and inviting. And full of day hikers. The path around goes through many rock fields.
On my way down off Kittatinny Mtn I sprain my right foot. I cannot walk on it until I wrap it tightly with my ACE BANDAGE. Then walking is painful, at best. I descend the mountain, cross the I 80- bridge into PA and find my way into the HOSTEL at Church of The MOUNT in Delaware Water Gap. I pick a bunk - no one is here but several bunks are already taken - and go to the BAKERY for treats then the diner for a mediocre prime rib dinner. SHAGGY, Moon Roof, Soot, Crash, and several others are at the full hostel when I return. Shaggy was delayed by a hospital visit for severe chafing but hopes the treatment will allow him to go on.
THE HOSTEL IS AN EXPERIENCE I SHALL NEVER FORGET. It has a nice shower and toilet, 4 double deck bunks plus a few couches and easy chairs, a hiker's swap box and register. Imagine a college dorm after an all night party only full of sweaty through hikers. It is awfully nice of the church to provide this needed and welcome resting space. Oddly enough, the shower was not a major attraction. Trail talk was lively and intense. Wish I had taken a photo. I leave a generous donation to show my appreciation.
It is SO good to be here - tomorrow's hike finishes PA for me, and coupled with the last few days from Greenwood Lake, finishes the section I planned on completing this spring that was cut short by multiple equipment failures.
I WILL finish the section to WIND GAP tomorrow, if I have to crawl. I have made arrangements to leave my pack at the hostel so I will be putting less strain on my foot. John will pick it up, then pick me up at Wind Gap.

Daily Journal Entries
~ Journal Part 2~

Hiking Partners Wanted
Spring/Fall hikes - 15miles/day - Contact Al.
aljohn@jmclum.com
.
Last Updated 5/4/2000