Al Robbins' (Free Spirit)
FALL '99 Appalachian Trail (AT) hike

Appalachian Trail Journal Part 2
Dates ........ THR SEPT 16, 1999
Miles ........ 0 MILES
From ........ MA - STRANDED at GLEN BROOK SHELTER
To .............
Weather ... TROPICAL STORM FLOYD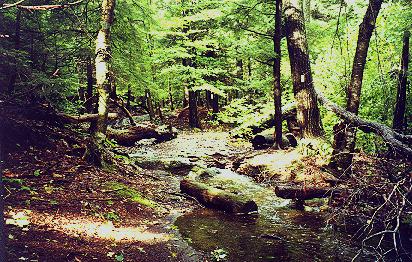 THR SEPT 16, 1999
TROPICAL STORM FLOYD
Last night was horrendous. A steady, heavy DOWNPOUR of rain, lots of STRONG WIND beat on the lean-to all night long without letup, LIGHTNING flashed all around us. Nearby TREES came CRASHING to earth, shaking our shelter. But, we could not go anywhere if we wanted to. The trickle of a stream had turned into a RAGING, ROARING WATERFALL, racing down the mountain, over 3 feet deep and 12 to 20 feet wide. There was no way to cross the stream. The AT itself was a rushing stream of water. At first, all we could hear was the heavy rain beating furiously on the tin roof and wind howling through the mountaintop. As the day progressed, the roaring of the waterfall stream 100 yards away became so intense that it drowned out the sound of the wind and rain on the roof. We were genuinely concerned about a tree falling on the shelter, or a landslide.
I was absolutely amazed that this MOUNTAIN-TOP stream could collect this much water from so little a land mass in such a short period of time. (Later I learned the area had as much as 8 to 9 inches of rain.) We were in the clouds of the storm much of the time with dense wind blown fog accompanying the storm. All in all, it made for an unforgettable adventure - one neither of us would care to repeat. Such is life on the trail - you can't always choose your adventure, sometimes it chooses you.
Amazingly, our plastic sheet held up to the onslaught and we stayed essentially dry. Quick Beam ventured down to the stream for water - I simply let the roof's runoff fill my pots - which it did quickly. We drank coffee, played cards and listened for some good news on the radio - there was only news of widespread flash flooding from NY to Mass with road washouts, power outages and trees down everywhere. The good news that the storm center was weakening and headed for Maine gave us hope that we could move on.
The rain and wind continued well into the night but forecasts were for the rain to diminish during the early morning hours but for a very windy day (Friday). We went to bed at 6 P.M., bored but anxious and not able to sleep very well.

Daily Journal Entries
~ Journal Part 2~

Hiking Partners Wanted
Spring/Fall hikes - 15miles/day - Contact Al.
aljohn@jmclum.com
.
Last Updated 5/4/2000