Al Robbins' (Free Spirit)
FALL '99 Appalachian Trail (AT) hike

Appalachian Trail Journal Part 2
Dates ........ FRI SEPT 24, 1999
Miles ........ 15.3 miles
From ........ NY - GRAYMOORE FRIARY
To ............. NY - WILLIAM BRIEN SHELTER
Weather ... 40 degree AM, another sunny day in the 70's.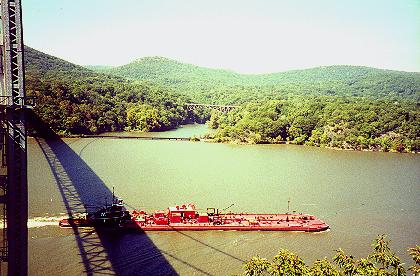 FRI SEPT 24, 1999
HUDSON CROSSING AT BEAR MOUNTAIN BRIDGE
CLIMB 4 PEAKS IN ONE DAY. South, Bear, West, Black Mtns.
STORM DAMAGE
Slip Knot feels better nad continues his hike. I leave the Friary and hike out to US 9 and NY 403 junction, call home and get fresh coffee and candy from a convenience store there. Then I cross a field and climb the last hill between me and the Hudson. The trail on the ridge is mostly nice walking until it reaches the Camp Smith blue blazed trail to Anthony's nose. There it becomes very steep, descending rock steps to the valley below. It is exciting to see the bridge below and know that I will soon cross it, though it seems so far. Finally I reach route 9D and approach the bridge. What a magnificent structure. It is awesome from afar and awe inspiring up close. I AM THRILLED AND EXCITED as I cross, freight and passenger trains speed by beneath me and a barge makes it way along the Hudson. What a beautiful place. I take my time and enjoy the moment.
Route 9W is closed beyond Bear Mountain Inn and Park - washed out and still blocked by fallen trees from storm FLOYD. I lunch on a 1/2 pound burger at Bear Mountain Inn (on the balcony by myself to avoid offending anyone.) As I climb Bear Mtn, I am amazed at the huge oak trees snapped, uprooted and washed out. Huge new gullies are everywhere on the mountainside. Crews work with heavy equipment to repair the damage. I descend Bear Mtn, ascend West Mtn and repeat the process for Black Mtn, each ascent rewarding me with breathtaking views of the Hudson, West Point, and surrounding mountains. I can't help but take a lot of pictures, though surely the best of them won't do justice to the beauty I am experiencing.
I risk life and limb crossing the Palisades Parkway near rush hour. It is a brutal reminder of things I like to get and stay away from - especially on the trail. At the crossing I run into Shaggy and Moon Roof again. They go on ahead to the shelter. I'm too tired to keep their pace. It is clear enough to make out NY city's skyline from the mountain's ledge. Not a high point for me - but a magnet and must-do side trip for so many others. Finally, at dark, I make it to the stone shelter nestled in the side of a rockslide. It is a small structure, four bunks, with massive stone walls. It has a walled spring for a water source but no privy we could find.
We lucked out - Rain overnight, clear in the morning.

Daily Journal Entries
~ Journal Part 2~

Hiking Partners Wanted
Spring/Fall hikes - 15miles/day - Contact Al.
aljohn@jmclum.com
.
Last Updated 5/4/2000