Al Robbins' (Free Spirit)
FALL '99 Appalachian Trail (AT) hike

Appalachian Trail Journal Part 2
Dates ........ TUE SEPT 28, 1999
Miles ........ 24.7 miles
From ........ NJ - County Rd 517 - TENTSITE
To ............. AT to NJ MASHIPACONG SHELTER
Weather ... 50 degree morning, very hazy, warm humid.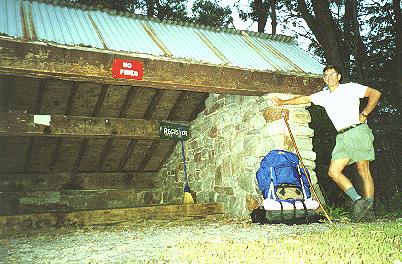 TUE SEPT 28, 1999
POCHUCK MTN - Wallkill WILDLIFE REFUGE - UNIONVILLE NY-
KITTATINNY MTN - Lots of ROAD WALKING - The LONGEST day.
Up before 5, on the trail by 7A.M. Through another construction detour but the trail is well marked as it follows roads through suburbia. There is even a pedestrian (AT) bridge across "Bridge Out" construction zone. Many nice houses and horse farms are in this area.
I pass by Pochuck Shelter and come to where the water pump used to be - no pump but there are 6 plastic five gallon water jugs. Thank you. The Wallkill WILDLIFE refuge is a great plain of SOD FARM and river valley, the sod farms "donated" to the government after the topsoil was all used up. It is now the biggest weed patch in the world. Past the Wallkill river almost into Unionville (NY), a hiker stops his jeep and offers a ride into town. I grab a delicious roast beef sub and Coke, call home, and resume at the trailhead on the other side of town. He's a neat guy, about my age, retired, living on a small farm where he welcomes hikers. He carries a loaded backpack in his jeep so he's ready to hit the trail anytime he wishes. Thank you, trail angel.
The trail climbs Kittatinny Mtn - actually, a long range of mountains stretching from here to Delaware Water Gap - up to High Point and Lake Marcia (1572'), passing by High Point Shelter. The view would be spectacular but there is so much haze it is like fog. You could practically cut it with a knife and can hardly see past the base of the mountain. The trail continues along the ridge of the Kittatinny with what should be many good views. There are many stream and swamp crossings - surprising at this elevation. The pump at Deckertown Turnpike parking area does not have any water but there are lots of full gallon jugs under a picnic table there. Thank you NJ High Point State Park.
Caught up with Slip Knot and Rolling Tide - they were off the trail for a couple of days while Slip Knot was sick. Probably from drinking bad water. Though he felt OK leaving the Friary at Graymoor, he got real sick afterwards. Shaggy, Moon Roof and That Guy catch up to me (again) at the shelter as I'm bathing and shaving. Though its almost dark, they're pushing on to Gren Anderson - I'm staying at Mashipacong Shelter. This trail is dangerous enough in broad daylight that I don't care to hike it in the dark -even with a headlamp. I'd rather turn in early and start earlier. But they are through hikers and getting there is their main concern.
The shelter is typical - of stone and wood construction, a raised platform, and tin roof. New Jersey posts all its park rules everywhere. Too many rules. No fires, not even at shelters, camp only in designated areas, PERMITS REQUIRED for just about everything - even operating a metal detector on public property requires a permit. Oh well, its New Jersey.
This shelter is 1/4 mile from Stokes Correctional Facility. They warn you about straying from the trail and trespassing there but invite you to go there if you have an emergency and need help. Yeah - right!
Exhausted from the big push, I turn in.

Daily Journal Entries
~ Journal Part 2~

Hiking Partners Wanted
Spring/Fall hikes - 15miles/day - Contact Al.
aljohn@jmclum.com
.
Last Updated 5/4/2000