Al Robbins' (Free Spirit)
FALL '99 Appalachian Trail (AT) hike

Appalachian Trail Journal Part 2
Dates ........ MON SEPT 27, 1999
Miles ........ 16.2 miles
From ........ Greenwood Lake NY Rt 210 then State Line (NY-NJ) trail
To ............. AT to TENTSITE ALONG CANAL ROAD (County rd 517 past NJ94)
Weather ... 40's in AM, mostly sunny, 70's daytime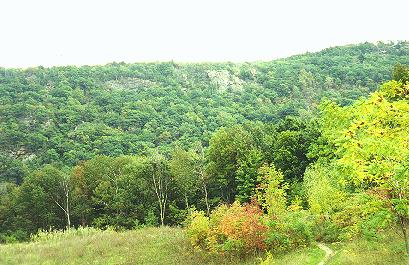 MON SEPT 27, 1999
BELLVALE, BEARFOOT, WAWAYANDA MTNS. PINWHEEL VISTA ROCK DESCENT
I had a real big breakfast at the diner. I was clean and fresh, took a seat in non-smoking as far away from smoke as I could get. The waitress chastised me for sitting at a table for four, but not a lady that did the same thing. (The diner was nearly empty and that's all there was, save the counter near the smoking section. That cost her a tip.) I picked up my mail, and sent back my film, used guides, etc. The post office was very friendly.
I hiked out Rt 210 to the NY/NJ state line, very steeply up the State Line Trail to the AT on top of Bellvale Mtn. The ridge of Bellvale Mtn is a nearly continuous rounded mass of solid rock - the Spine of the Appalachians. Shortly after the summit, the AT turns west, following the NY/NJ border, up and over Wawayanda Mountain then down into a swampy, mosquito and poison ivy infested valley.
I take a break at Wawayanda shelter and am very disappointed to find no water source there. (In NJ, they expect hikers to walk 4/10 mile to the Wawayanda park office for water?). There was a big, strong steel BEAR BOX there. I sign the register and move on. On the ridge of Wawayanda Mtn I see from the register that Shaggy, et al, are just ahead of me. It is 4:15 and hazy as I reach Pinwheel Vista - a massive cliff jutting from the mountain affording views of the valley below and Pochuck Mtn, tomorrow's climb, ahead.
The EXTREMELY RUGGED DESCENT from Pinwheel Vista is TORTUOUS and TREACHEROUS . AWESOME. Down solid rock narrow ledges perched on the cliff face then 3/10 mile of switchback down a jumble of huge sharp edged, pointed jagged rocks. It is tiring, dangerous and beautiful, especially since the rich canopy of dense trees makes it nearly dark at the base of the mountain. I am impressed. This rugged descent is anything but what I would expect to encounter in New Jersey. If it were the slightest bit more rugged, rock climbing gear would be required. Looking back, it seems improbable that I was just on top of the rock monster.
At the trailhead with NJ 94, I decide to pass up the Vernon Hostel (2 mile side trip) and opt to continue and camp along the trail. I cross a couple of fields, RR tracks and a stream and set up my tent in a field near a canal. I search carefully, trying to find a spot free from poison ivy. The mosquitoes are relentless, really bothering me for the first time on this trip. Add to that an abundance of wood and deer ticks and this valley is not the best place to be - but darkness falls and I really have no choice. I wish now I'd opted for the hostel.
I get a good nights sleep - thanks to the tight netting on my tent. Barred owls call to one another from the mountains.

Daily Journal Entries
~ Journal Part 2~

Hiking Partners Wanted
Spring/Fall hikes - 15miles/day - Contact Al.
aljohn@jmclum.com
.
Last Updated 5/4/2000