Free Spiritís
Pennsylvania Appalachian Trail Journal

Dates ........ FRI MAY 7, 1999
Miles ........ 13 miles 200+ miles completed
From ........ tentsite just past LITTLE GAP
To ............. WIND GAP
Weather ... RAIN overnight, RAIN and HEAVY FOG all day, 60ís - upper 70ís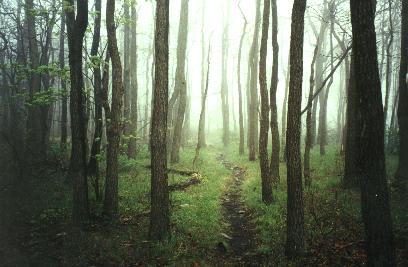 FRI MAY 7, 1999
Tent kept me very cozy and dry despite the rain. Using a little piece of birch bark, I am able to start my fire easily, even with wet wood. Serious FOG, making it difficult to see trail blazes. Views were nonexistent. Rain adds to danger on trail making ROCKS SLIPPERY. Smith Gap is barely noticed as I pass through it; unlike other gaps where you descend then climb back up, Smith Gap has no change in elevation. Just a road that snakes up over the mountain - no water or stream. Vandals have obliterated trail blazes, removed signs, and shot up the information board here, making it very difficult to follow the trail in places. BLACK and WHITE WARBLER flits about the wet underbrush along trail. Visit Leroy Smith shelter - rest and snack. No water.
At 3:15 PM just before descending switchback into wind gap, MAJOR PACK FAILURE. The strap connecting the frame to the back/hip belt ripped out. I tried to lash it together but was not successful. As I carefully descended the switchback with the pack just hanging from the shoulderstraps, I came to realize the benefits of having pack weight distributed on the hips and snug to your body. Every step caused the pack to sway and shift, throwing me off balance. AT 4:15 PM I was at the WIND GAP MOTEL. Two very essential items had failed: my pack and my boots. It was not practical to continue until I got a replacement pack or back/hip belt. I asked and called around; none were available locally. With both heels completely gone, both sole treads gone and the sole of one boot separating from the upper, I decided it was most practical to end my hike here and resume when re-equipped with new pack and boots.
I had a roast beef and turkey sub and bottle of beer for dinner and spent the night in the motel until John picked me up in the morning. Then we drove to Delaware Water Gap and picked up my resupply packages (food and boots), discovered and enjoyed the wonderful bakery and garden shop there, then headed home. I hiked 213 miles in all and am anxious to continue the journey.

Daily Journal Entries
~ Journal Part 1 ~

Hiking Partners Wanted
---
Last Updated 4/27/2000
---