Free Spirit's
Pennsylvania Appalachian Trail Journal

Dates ........ FRI APR 30, 1999
Miles ........ 17.5 miles (first 100 trail miles completed)
From ........ PETERS MOUNTAIN SHELTER
To ............. Rausch Gap shelter
Weather ... 40's to 70's, sunny, clear, nice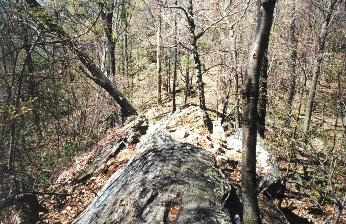 FRI APR 30, 1999
Along Indiantown Gap Military reservation and thru St. Anthony's Wilderness.
Nice trail and easy walking along an old road for a short while. Met a solo weekend hiker. Boot tread falling apart - rocks taking their toll. Down mountainside to Rt. 325, lunch and foot break at game land parking lot - bask in warm sun next to stream. Fishermen around stream. Drink all the water I can plus fill canteen at spring ("camel up") Long, steady climb to top of STONY MTN. past DeHart Reservoir and onto OLD STAGECOACH ROAD which runs along mountain ridge. Littered with pointed sharp rocks, the old stage road was kept passable by filling in around the rocks with dirt shoveled from areas next to road. Today, these depressions/holes can still be seen, often with mature trees growing in them. The rocks are all now exposed to the hiker.
THRILLING personal air show as military jets skimmed the mountaintops with their maneuvers overhead. Being so close gives the hiker a first hand idea of the speed, noise and power of these machines. BIG PUSH to make it to Rausch Gap shelter. YELLOW SPRINGS village - an interesting ghost town. Pass abandoned strip mines. Wild turkey strutting in trail. Broke pack pin/ring holding frame to back belt, replaced with spare.
Rausch Gap shelter has a spring piped right to it, is an old stone and log structure built in an old mining area. A man and two boys on a weekend excursion asked if they could stay at the shelter. They had lots of good food - steaks and sausage - not the usual backpacker fare and were quite generous. Glad I said yes. Kids said I snored "like a bear". Tomorrow is opening day of turkey season.

Daily Journal Entries
~ Journal Part 1 ~

Hiking Partners Wanted
---
Last Updated 4/27/2000
---