Free Spiritís
Pennsylvania Appalachian Trail Journal

Dates ........ MON APR 26, 1999
Miles ........ 12 miles
From ........ Tagg Run shelter
To ............. Boiling Springs
Weather ... 35 to 70 degrees, sunny, pleasant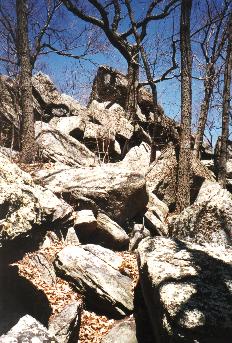 MON APR 26, 1999
Leaving Tagg run, my feet feel good until about 10 AM. I loosen my shoes and zip the legs off my pants, Shorts feel good. Feet really hurt now. Just after climbing to the nearly solid rock mountain ridge there are spectacular vistas of the CUMBERLAND VALLEY below.
The solid rock trail is treacherous, tricky, challenging, tiring and oh so beautiful. It takes you over, around, through and between massive rocks and rock formations. Agility and balance are continually tested. VISTAS are indescribably beautiful.
Looking across with map and compass, you can see the mountain that the trail climbs after crossing the valley. ON TOP OF THE WORLD -Awesome. At Alek Kennedy shelter I rest up, drink as much water as I can hold and push on. A sign tells of campsite just outside Boiling Springs - go for it. Come down off mountain with AWESOME views, through huge farm field to edge of town (tent camp here).
Painfully walk into town, get dinner at an Italian restaurant, limp back to camp and go to bed. Tentsite is in hedgerow next to VERY ACTIVE train tracks and slow moving stream. Boiling Springs is a cute, prosperous appearing little town with a pond and park in the middle.

Daily Journal Entries
~ Journal Part 1 ~

Hiking Partners Wanted
---
Last Updated 4/27/2000
---