Free Spiritís
Pennsylvania Appalachian Trail Journal

Dates ........ TUES MAY 4, 1999
Miles ........ 15.2 miles
From ........ Port Clinton Hotel
To ............. ECKVILLE SHELTER
Weather ... 60 degree rainy morning, taper to sprinkles and 70ís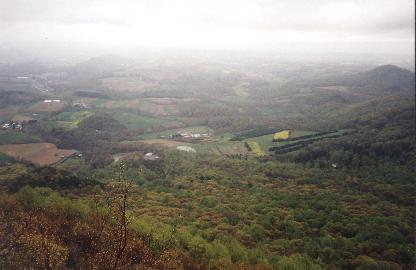 TUES MAY 4, 1999
Met Mustang Sally at 7 AM for hikers breakfast - Unbelievable ham steak (1/2Ē thick, dinner plate size), 3 eggs and a heaping plateful of delicious home fries, toast and coffee - I could not eat it all. Made sandwiches out of the toast and1/2 ham we could not eat. All for $6. Leave hotel, walk down road to trail, switchback climb to ridge, got on top and found a passed out camper along the trail in the open rain. He was OK - just had too much vodka.
Camel up (drink all I can, fill canteens) at Pocahontas spring. Treat feet and lunch at Windsor Furnace shelter, much to the annoyance of a resident swallow. Climb to PULPIT ROCKS in the rain. Treacherous, especially with my worn out boots. The PINNACLE is wet, view hampered by annoying drizzle. You can barely make out nearby farms below. Met solo exercise after work blonde hiker just before valley road and Eckville shelter. Says he hikes up the mountain every day - his physique looks it, too.
ECKVILLE SHELTER is very different - not your typical elevated platform with a roof and 3 sides. It is an enclosed bunkhouse complete with electric lights, 4 walls, windows and a door, an outhouse with solar heated running water and lights - neatly tucked away behind an old farmhouse where the caretaker lives. Had a great night sleep -alone. Awoke to a Cardinal and dove singing away, had breakfast and hit the trail.

Daily Journal Entries
~ Journal Part 1 ~

Hiking Partners Wanted
---
Last Updated 4/27/2000
---