Free Spiritís
Pennsylvania Appalachian Trail Journal

Dates ........ APR 24, 1999
Miles ........ 12.2 miles
From ........ Quarry Gap shelter
To ............. Tomís Run shelter
Weather ... 25 to 60 degrees, bright, sunny and cool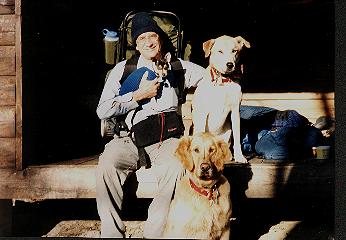 SAT APR 24, 1999
Very cold at night - had to put clothes and woolens on. Water froze in the morning. Breakfast, then head out. Used other camperís stove to conserve my fuel. Part of the trail is actually covered with a soft bed of pine needles. What a change. Trail stays on 2000 foot high ridge for many miles, then drops into streamside Toms Run. What a (weekend) zoo - 15 tents of Boy Scouts, family campers and kids running all over the place - just like a state park in July. Scout leaders took over one of 2 shelters, (not the intended purpose of the shelters) two very nice women (with 3 lovely dogs) shared their shelter with me. There was often a line at the outhouse and I found it most difficult to sponge bathe clean. The fire at the site felt good. It was another 25 degree morning where unattended water froze. Tonja and Carole took pictures and promised to E-mail John of my progress. I used their stove and fuel. Feet really hurting and Vitamin I (Ibuprofen) helps keep me moving. Feet hurt most after I stop, so I keep going. Scouts were quiet, Tonja and Carole and their dogs were great company.

Daily Journal Entries
~ Journal Part 1 ~

Hiking Partners Wanted
Spring/Fall hikes - 15miles/day - Contact Al. aljohn@jmclum.com.

---
Last Updated 4/27/2000
---