Free Spiritís
Pennsylvania Appalachian Trail Journal

Dates ........ THUR APRIL 22, 1999
Miles ........ 8.3 miles
From ........ PenMar MD (Mason Dixon line)
To ............. Tumbling Run Shelter
Weather ... About 70-75 degrees, hazy and humid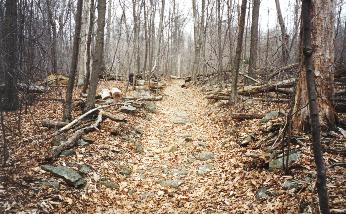 THUR APRIL 22, 1999
Thank you Jim Yeich for the ride to PenMar park in MD. Leaves on trees ahead of Northern PA - it is noticeably greener down here. Start at 12:45 PM with a nice downhill trail heading north. Crossing the railroad tracks, a woodchuck scurries to his hole. The trail wastes no time in becoming rocky, living up to its reputation. . (But I aint seen nothing yet.) The woods are a mix of oak, hemlock and mountain laurel. The first people I meet on the trail are 4 high school kids smoking pot at the Antietem shelter. I move hastily on. I meet up with a cheerful and polite group of 15 or so Outward Bound kids and their counselors also backpacking part of the AT.
I reached Tumbling run shelter near 6 PM, a nice double shelter with a large stream running nearby, and a spring across the stream a bit. The stream noise helps drown out the ever present and annoying industrial whine in the air. The shelter is empty but another group of Outward Bound kids are camping in the clearing along the stream. They are friendly, courteous and well behaved. On my way to get water, I slipped and planted both feet firmly in running cold stream water. Shoes soaked. Not a good omen. Cooking dinner, one of my three propane fuel tanks will not shut off when removed from stove - 1/3 of my 3 week fuel supply gone. I slept well though a bit too warm in my mummy bag.

Daily Journal Entries
~ Journal Part 1 ~

Hiking Partners Wanted
Spring/Fall hikes - 15miles/day - Contact Al. aljohn@jmclum.com.

---
Last Updated 4/27/2000
---