Free Spiritís
Pennsylvania Appalachian Trail Journal

Dates ........ SAT MAY 1, 1999
Miles ........ 12.7 miles
From ........ Rausch Gap shelter thru SWATARA GAP
To ............. William Penn shelter
Weather ... 40ís to 70ís, warm and sunny, breezy, very pleasant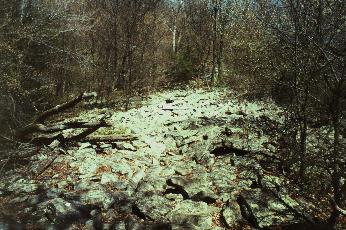 SAT MAY 1, 1999
Out of shelter through ghost town Rausch Gap Village, an old mining and RR community with interesting remains, climb to and descend SECOND MTN, then road walking through GREEN POINT where there is a phone booth on road/trail - call home: John, send me new shoes to Delaware Water Gap. Then fire station BAKE SALE treat of kraut dogs, cupcakes and fresh donuts, past new Swatara SP entrance (under construction) , through field and back into woods, Across PA 72, Swatara Creek on old iron bridge, then under I 81 (2nd crossing of I 81), into woods, climb up LITTLE MTN past old charcoal hearth (campsite) to ridge with great view of I 81 in valley.
Today I feel as though I have to push every step of the way - feel sluggish, no smooth gait, even along roads. UNSETTLING EXPERIENCE while I was resting on the ridge after a very steep climb, a man came out of nowhere, dressed in street clothes with no hiking gear or water, startled me, asked lots of personal questions and tried handing me religious pamphlets. (A self proclaimed prophet on a mountain?) Then he went along the trail ahead of me and I ran into him coming back hours later. I am growing tired of the endless ROCKS and dance steps that must be constantly performed to avoid injury on the rocky trail. I would enjoy just a few miles of a nice dirt path. It is a 34 mile long ROCK RIDGETOP along BLUE MTN at 1500 feet elevation until Port Clinton Gap. Many overlooks, constant vistas below. Buzzards soaring overhead.
I have the very nice lofted, windowed William Penn shelter to myself (and some mice) but there are three groups of weekend tent campers between it and the spring on the other side of the trail. I sponge bathe, wash my hair, do laundry and hang clothes in the breeze to dry before bed. Propane fuel nearly gone, I use small finger size twigs in a rock channel fireplace to cook with. Woods are extremely dry and high fire hazard, so I am extra careful with fire. My feet are improved, though still tender around blisters.

Daily Journal Entries
~ Journal Part 1 ~

Hiking Partners Wanted
---
Last Updated 4/27/2000
---