Free Spiritís
Pennsylvania Appalachian Trail Journal

Dates ........ WEDS APR 28, 1999
Miles ........ 12.6 miles
From ........ Darlington Shelter
To ............. DOYLE HOTEL in DUNCANNON at the SUSQUEHANNA Rvr
Weather ... 40ís to 70ís, sunny and nice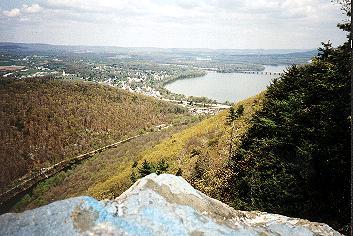 WEDS APR 28, 1999
From Darlington shelter, it was down the side of Blue Mountain across a narrow valley and up very steeply onto COVE MTN., along its rocky ridge. I passed by the Thelma Marks shelter, it being too far off the trail. I rested on a table rock overlooking the woods and enjoyed my trail mix lunch and a treat of M&Mís. Duncannon and a call home was near. My food supplies were very nearly gone - as planned. I needed a shower and real laundry. Packing light with few extra clothes and warm, sweaty hikes have their unpleasant drawbacks.
HAWK ROCK was awesome. High above Sherman Creek, the Susquehanna and Duncannon, it was perched to provide splendid panoramic views from its dizzying perch on the mountaintop. Then a rock step trail and rock slide traverse and steep switchbacks took you off the mountain into civilization. I called home from the first phone then walked down Main Street when someone came out of the closed up Doyle hotel and offered me a room for $10. Promised a hot bath and soft bed, seeing nothing else nearby, I took it - it had to be better than a tent in the woods - didnít it? Just barely - maybe. The burned in half mattress left in the hallway as a reminder not to smoke in bed said it all. I slept in my sleeping bag liner on the bed. The hot bath felt good.
Duncannon is a mix of a dying downtown and cute little residential area, a town built on the past and trying to survive the present.
A fabulous roast beef sub and bottle of beer from a nearby Italian restaurant was dinner. An hour in the laundromat, a little shopping at the convenience store, a trip to retrieve my package from the post office, repacking my pack, preparing to send stuff back, making P&J sandwiches for tomorrow kept me busy before going to bed.

Daily Journal Entries
~ Journal Part 1 ~

Hiking Partners Wanted
---
Last Updated 4/27/2000
---