Free Spiritís
Pennsylvania Appalachian Trail Journal

Dates ........ THUR APR 29, 1999
Miles ........ 10.1 miles
From ........ Doyle Hotel DUNCANNON
To ............. PETERS MOUNTAIN SHELTER
Weather ... 50ís to 70ís, sunny, nice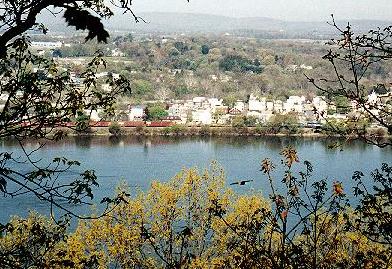 THUR APR 29, 1999
Walk thru town, drop my package at the post office, cross the JUNIATA river bridge then cross the SUSQUEHANNA on the Clarks Ferry bridge, cross a highway and train tracks and begin the CLIMB up Peters Mountain. I feel very sluggish and lack motivation starting out this morning
EXTREME FORTUNE - while resting on the overlook, a BALD EAGLE soared up the river and turned in front of me to cross. I managed a quick shot with my camera. It was only the second eagle I have ever seen in the wild and it was real close. What a magnificent sight. Like the eagle, my spirits soar.
Breathtaking views from the pointed rock ridge of Peters Mountain - north looks across the Susquehanna and Juniata rivers and Duncannon, south over the Susquehanna through the gap and down to Rockville Bridge (worldís longest stone arch bridge). The trail is solid rock on top and requires slow, careful going with every step. Up, down, around, over and through massive rock outcrops on top of this mountain. A careless step here may mean a broken leg - or serious fall. Wow.
Large military helicopters flying along mountaintop so close you can feel the wind from their blades. WATER IS HARD TO GET - plan on hiking a long, steep way down the mountainside to get water. Shared the new two story very nice Peters Mtn shelter with Mike - he was just embarking on his AT journey, but after one day he decided his 70 pound pack was too heavy. Flying squirrel kept pestering us in the shelter much of the night - seems we invaded his home. Mike slept in as I left the next morning and I never saw him again.

Daily Journal Entries
~ Journal Part 1 ~

Hiking Partners Wanted
---
Last Updated 4/27/2000
---