Free Spiritís ( Al's )
Appalachian Trail Journal

Damascus Virginia to Petites Gap - Part 5
Dates ........ Sunday, April 22, 2001
Miles ........ 16.3 miles
From ........ Helveys Mills Shelter
To ............. TENT CAMP VA 606 (store) near Kimberling Creek suspension bridge
Weather ... Warm, partly cloudy, hazy 60's and 70's
Sunday, April 22, 2001
Kimberling Creek and Wilderness, VA 606,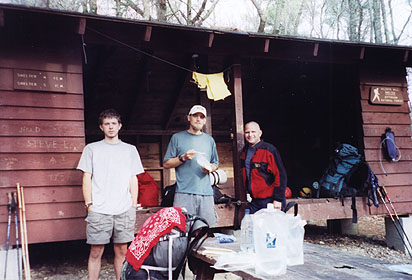 Zach, Dusty, and Sugar Bear at Helveys Mills Shelter.
I was the first one to hit the trail and leave Helveys Mills Shelter. It was a fairly long ridge walk with little change in elevation the first 10 miles then the trail dropped into a valley and climbed back up onto a ridge again, then dropped into the Kimberling Creek Valley and VA 606. It was an unremarkable section of trail. There were few views due to the wooded ridges and most of the trail was around 3000 feet elevation. I arrived at the suspension bridge tired, hot and thirsty. I pushed hard to be there before 5 PM, the time I feared the nearby store closed.
I crossed Kimberling Creek on the elaborate suspension bridge to VA 606 and walked about a half mile up to the general store. It was open until 9 PM. There I ate a half-pound burger, 2 slices of pizza, 2-20 ounce Sprites, and most of a quart of ice cream. Then I got two big burgers to go - one for dinner, one for breakfast, and I called home. While there, several men in corrections officer uniforms came in. They told me the state's largest maximum security facility was right next to the trail, just out of sight on adjacent federal land. That was reassuring. I met Moto at the store and bought him a slice of pizza. The store was directly across from a huge timber-processing mill. The smell of wood and bark permeated the air.
We returned to the clearing on the other side of the suspension bridge and set up camp, Moto sleeping out in the open. Sugar Bear came along and we invited him to join us. He made a run to the store and brought us back soda and orange juice before setting up his tent.
It was a warm, peaceful night along the stream, listening to the sounds of the running water. No prison escapees bothered us.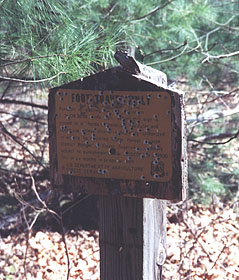 Sign of a moron.

Daily Journal Entries
~ Journal Part 5 ~

Hiking Partners Wanted
Spring/Fall hikes - 15 miles/day - Contact Al.
aljohn@jmclum.com
.
Last Updated 7/05/01