Free Spiritís ( Al's )
Appalachian Trail Journal

Damascus Virginia to Petites Gap - Part 5
Dates ........ Friday, April 20, 2001
Miles ........ 9.8 miles
From ........ Chestnut Knob
To ............. Jenkins Shelter
Weather ... 40's and windy AM, clearing and warming to the 60's
Friday, April 20, 2001
Chestnut Knob views, ridge over and views of Burke's Garden (valley)
In the morning it was mild pandemonium as the Scouts, their energy renewed, were ramming around having fun while their leaders were trying to get them to focus on packing up and hitting the trail. It was fun and distracting for me too. I rallied the troop for a photo in front of the shelter, packed my gear, shouldered my pack, shook their hands and said good-bye.
I was startled by a lone turkey hunter in full camouflage, shotgun in hand, leaning against a big tree right on the trail. How senseless, I thought. Here is a very popular, world renowned trail with humans plodding through on a regular basis and this guy expects to find wary wild turkeys here? The turkeys are smarter than that. Then there is the safety issue. The last place I would want to hunt would be someplace where a person (hiker) or group of hikers could wander into my line of fire at any time. Hunting along the trail may be legal, but it is stupid. (Incidentally - I love guns and have nothing against hunting and am an avid gun owner and shooter myself.)
The ridge around Burke's Garden was beautiful, providing many vistas and overlooks. It was easy walking but quite humid, hazy and windy with high clouds and temperatures in the upper 50's. I ran into an interesting day hiker, a very spry young man of 73 that was also very knowledgeable of many of Nature's mysteries. He had hiked the entire trail twice and now had settled down to just enjoying day hikes on selected sections. Burke's Garden and Chestnut Knob were among his favorites. He told me I had a lot to look forward to when I got to McAfee Knob and Tinker's ridge - his favorite in all of Virginia. Two Forest Service rangers were checking out a trail relocation near VA 615.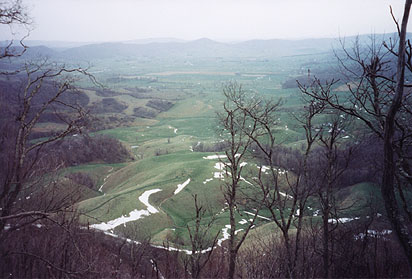 Burke's Garden VA from Brushy Mountain ridge. Pockets of unmelted snow remain..
I decided to stay at Jenkins shelter, giving myself an easy day. I was ahead of schedule and tired from yesterday's long haul. I used the time and good breeze to wash and dry some trail laundry. I had problems with hyperactive mice that tried to get into my sleeping bag and gear. They were relentless, running over my head twice. I did not sleep well. The privy walls were painted a psychedelic scheme by some woods hippie - and it was a long uphill walk from the shelter.

Daily Journal Entries
~ Journal Part 5 ~

Hiking Partners Wanted
Spring/Fall hikes - 15 miles/day - Contact Al.
aljohn@jmclum.com
.
Last Updated 7/05/01