Free Spiritís ( Al's )
Appalachian Trail Journal

Damascus Virginia to Petites Gap - Part 5
Dates ........ Sunday, April 15, 2001
Miles ........ 12.2 miles
From ........ Lost Mtn Shelter
To ............. Thomas Knob Shelter on Mt Rogers
Weather ... Increasing cloudiness, windy, rain, 40's, 60 MPH winds on Mt Rogers
Sunday, April 15, 2001
Beech (4766' el), Whitetop (5520' el), Balsam, Rogers (5729'el) Mountains. In the clouds.
Happy Easter. I got off to a late start, about 8:45. I have 12.5 miles and a 2000 foot climb to Whitetop then another 1000 foot climb from Elk Garden to Mt. Rogers ahead of me. Showers are in the forecast and heavy, dark clouds are moving in and it is getting quite windy and cooler.
The climb up Whitetop is arduous and long - 2000 feet elevation over 3 miles of trail - not too steep - just steady, long and tiring, especially in raingear. I'm so glad my pack is light and that my knees are not bothering me. I am experiencing a dull pain in my hips though - probably due to my lack of conditioning.
I met a group of young kids coming down the mountain - 2 boys, 2 girls and they were tired from going down. The one blonde boy was almost identical to an old friend of mine, Jimmy Driver. Funny how meeting someone on the trail can take you back to another time and place.
The summit of Whitetop and Buzzard rock were not pleasant. It was raining hard - a stinging, cold pelting rain that made you wonder what you were doing out here. Of course, the spectacular views were not to be. The wind seemed to be increasing as I gained elevation, and the temperature was falling. Both Whitetop And Mt. Rogers had large grassy areas near their summits, though Mt Rogers summit was wooded.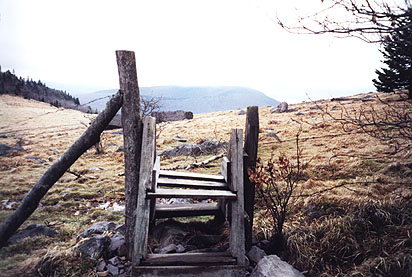 Stile near AT on crest of Mt Rogers, looking back toward Whitetop Mt.
On my way up Mt Rogers I met OX, a through hiker from England finishing up a hike he started last year. The last two miles to the Thomas Knob shelter looked easy on the profile map but were in fact extremely rocky with lots of little steep ups and downs (more ups) through the woods. When I reached the clearing near the trail to the summit, I could see the clouds blowing across in front of me and felt the wind trying to blow me over or lift the pack off my back. The winds must have been near 50-60 MPH as I approached the summit. Finally, I saw Thomas Knob shelter looming ahead in the clouds.
When I reached the shelter the wind was screaming. The shelter was in the open, 50 feet from the edge of the woods with the wind coming across an open field to the shelter. It was shaking in the wind but it was a most welcome refuge. I had the shelter all to myself except for a pair of wild turkeys that were using it as a windbreak. I went down the pasture to the fenced-in spring and got my supply of water, changed into warmer and dryer clothes and set up my sleeping area in the shelter's loft. The wind and blowing clouds made it sound and feel like you were in turbulent air in a jetliner at 50,000 feet. Exhausted, I had no problem getting to sleep. In the middle of the night I woke up feeling cold. I put my wool cap on and pulled my tent over my sleeping bag and fleece liner. I was warm enough to go right back to sleep.

Daily Journal Entries
~ Journal Part 5 ~

Hiking Partners Wanted
Spring/Fall hikes - 15 miles/day - Contact Al.
aljohn@jmclum.com
.
Last Updated 7/05/01