Free Spiritís ( Al's )
Appalachian Trail Journal

Damascus Virginia to Petites Gap - Part 5
Dates ........ Thursday, April 19, 2001
Miles ........ 23.3 miles
From ........ Atkins VA
To ............. Chestnut Knob Shelter
Weather ... Sunny, mid to upper 60's
Thursday, April 19, 2001
Ceres Mail Drop, Chestnut Knob (4409'el) and mountain views, Boy Scout Troop, Burke's Garden.
The shuttle driver was late and suffering from a migraine headache. He could hardly keep his car between the double yellow and the guardrail on this extremely steep, winding mountain-climbing road. I offered to drive (actually, I insisted) and he was happy to let me, closing his eyes to rest. I saw three yearling whitetail deer cross the road in front of me on the way up. I picked up my mail drop at the Ceres Post Office - in the middle of nowhere, really - and drove myself back to the trail. My pack always felt extremely heavy after a mail drop, but it was still much lighter than what I carried on my first three hikes.
It wasn't too bad a climb past Davis Path Shelter, over Gullion Mt and Tilson Gap, and past Knot Maul Shelter, but I was tiring fast -carrying a heavier pack (probably 31 pounds in all). I had to face the hardest, biggest climb at the end of the day - but I wanted to make the miles. From the dirt road crossing of VA 625, it was a 2000-foot climb over 4 miles of trail - and I had already hiked 16 tiring miles. Along the way, several partridge took flight, startling me and providing an adrenalin boost. There were still isolated pockets of snow here and there along the trail but it was melting fast in this sunny day in the high 60's. I had to really push myself to continue the last bit of the climb until, near the summit, I came across the most awesome mountain views of the trip - so far. There, laid before me were more mountains than the mind could comprehend - or than the camera lens could capture. Seemingly limitless in depth and expanse, their raw beauty defied description and intoxicated me. I almost camped a couple miles mile short of the summit to bask in the vista but made myself go on, literally putting one tired, sore foot in front of the other.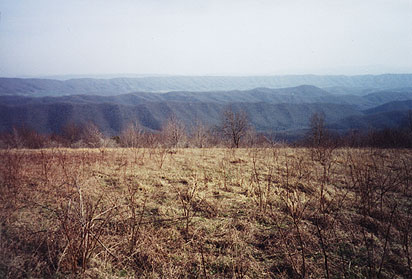 Partial view of the expanse of mountains looking west from Chestnut Knob.
I rested a few moments at the pond and spring - the last reliable water 1.8 miles before the shelter on the summit, soaking up the view. This is why I hike, I thought to myself. This is my reward. Then I pushed on and finally the summit and shelter came into view. A group of boy scouts were there. They gladly made room for me and were eager to share their food and baked goods surplus with me. They were on a 50 mile hike and one of the guys had driven all the way out from Colorado to be with his (old) scout troop (Troop 9 based in Burlington, NC). Their youthful energy and good behavior made me forget how tired I was and took me back to my happy days as a Boy Scout.
The view over the summit of Chestnut Knob (4409' el) was of Burke's Garden - a legendary and beautiful valley of fertile farmland surrounded on all sides by mountains, Chestnut Knob being the highest. The shelter was a former fire warden's cabin at a fire tower site. All in all it was a great reward for dragging my sorry ass up the last few miles. It was near sunset when I finally arrived.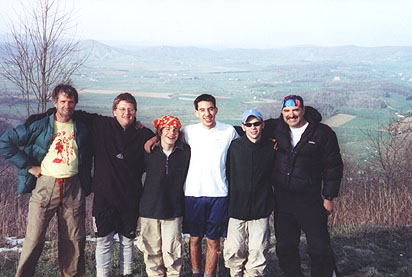 Scout Troop 9 from Burlington, NC at Chestnut Knob (4409') with Burke's Garden in background.
The very exposed shelter had its roof strapped down with steel cables, presumably to keep it from blowing away during high winds. Its base walls were laid up fieldstone and concrete. The views from around the shelter, and even its crude privy, were phenomenal - I can only imagine what they were from an elevated fire tower. Unfortunately, only the concrete base piers of the fire tower remained. Like so many wonderful and exciting things, fire towers have passed into nostalgic obsolescence. I slept well inside the sturdy, enclosed shelter.

Daily Journal Entries
~ Journal Part 5 ~

Hiking Partners Wanted
Spring/Fall hikes - 15 miles/day - Contact Al.
aljohn@jmclum.com
.
Last Updated 7/05/01