Free Spiritís ( Al's )
Appalachian Trail Journal

Damascus Virginia to Petites Gap - Part 5
Dates ........ Monday April 30, 2001
Miles ........ 11.2 miles
From ........ Daleville Econo-lodge Motel
To ............. Wilson Creek Shelter (tent)
Weather ... Hazy, sunny 82 degF
Monday April 30, 2001
Fullhardt Knob
I started the morning with a long, luxurious hot shower and clean trail duds. I drank a quart of orange juice, two cups of real coffee, ate two doughnuts, a roast beef sub, a pastry and a couple of bananas for breakfast.
I picked up the trail right near Pizza Hut. I took a parting photo of the suburbs of Daleville and headed for Troutville, the I 81 crossing, and Fullhardt Knob. There were a lot of nice houses in the area, occupying what was once farmland. The days heat was taking a toll, though the miles were coming easier now that I had two weeks of hiking to condition me.
It was a moderate 1200 foot climb up Fullhardt Knob to its shelter. A unique cistern system collected and stored rainwater from its roof, but it was bone dry. The woods were real dry too, kind of like walking on corn flakes when you stepped off the trail. I had lunch and moved on, filling up on water at the Curry Creek crossing.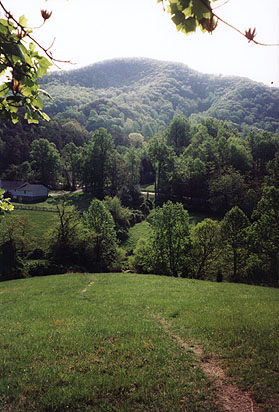 Looking ahead to Fullhardt Knob.
I arrived mid afternoon at the Wilson Creek shelter. After tending to my water needs, I stretched out shirtless on the picnic table to soak up some sun and relax. A couple of interesting day hikers came by to get water. Then a couple of long distance hikers - Skid and Curt come by. Skid, a man of considerable size, was using two shovel handles for walking sticks. Curt was using an ancient '60's aluminum frame backpack and preferred sleeping under the stars when weather permitted. I enjoyed interesting conversations with them both.
Then my least favorite female hiker came along and that was the end of pleasant conversation. I removed my gear from the shelter set up my tent 50 yards away. She had the entire shelter to herself. (After my experience of April 28-29 at the Lamberts Meadow Shelter I knew why!) I listened to a strange bird sing all night and heard owls calling from hilltop to hilltop. (I much preferred that to an assortment of snorts, wheezes, whistles and snores.) The distant sound of a train whistle was musical and peaceful and helped lull me to sleep. It was the perfect night to be in a tent.

Daily Journal Entries
~ Journal Part 5 ~

Hiking Partners Wanted
Spring/Fall hikes - 15 miles/day - Contact Al.
aljohn@jmclum.com
.
Last Updated 7/05/01