Free Spiritís ( Al's )
Appalachian Trail Journal

Damascus Virginia to Petites Gap - Part 5
Dates ........ Saturday April 28, 2001
Miles ........ 16.1 miles
From ........ CATAWBA, VA The Homeplace Restaurant (Back to VA 624)
To ............. Lambert's Meadow Shelter
Weather ... 50 degF Am, sunny, clear, 80 degF PM.
Saturday April 28, 2001
Black Snake, Catawba Mt, Awesome views from McAfee Knob (3197'el), Tinker's Ridge and Cliffs (3000'el).
I got up and was at the country store by 6:30 AM. When I visited yesterday she indicated she'd be happy to fix me breakfast and some sandwiches to go in the morning. The man that was there, however, refused to fix sandwiches or "cook" anything beyond a pot of coffee. HE was quite obstinate and unfriendly, actually. I ate a few bananas and had some pastry and coffee for breakfast while I waited for "the cook" to get there. She arrived and promptly fixed my sandwiches, nicely apologized for my having to wait, then offered to drive me to the trail. I accepted and she drove me to the trail crossing at VA 624. I thanked her, shouldered my pack and hit the trail heading up Catawba Mt.
At the trail crossing and parking area on VA 311, there were lots of cars - weekenders, dayhikers and boy scouts no doubt. I came across the ramshackle Boy Scout Shelter and used their privy, left some surplus food and moved on. Just after that shelter I came across another big black snake sunning himself in the trail. He was a bit aggressive and coiled to strike as I walked around and photographed him. I left him alone and went on my way to the Catawba shelter and spring, which were swarming with 40 boy scouts and their leaders and a few AT hikers. I did not tarry, I pushed on, very eager to stay ahead of that mob if at all possible. Now don't get me wrong - I was a scout and I love scouts but this group of mostly younger scouts was very noisy, rowdy and out of control. As they experienced the wilderness, they diminished the experience for others. That's life.
I had a very steep 1500-foot climb ahead of me to McAfee Knob. On the way up I met a local day hiker that was taking a more challenging route than the AT. I passed more scouts on the way up. When I finally got up there I was awestruck with the panorama laid before me. The top of McAfee Knob is a rock shelf about 30 feet in diameter that juts out from the top. It is probably 200 or more feet straight down from its cliff edge. From left to right I could see a massive mountain ridge to my left - the very one that I had hiked over to get here - a beautiful valley then another massive ridge to my right that ended in a sharp hump but actually made a hairpin bend around further right to a mountain capped with an array of antennas, behind that I could make out the profiles of Sharp Top and Apple Orchard Mountains, then continuing right, behind another ridge of mountains (Green Ridge), into Roanoke VA and the Roanoke airport to the far right. What a beautiful vista. It was inspiring to be able to see Apple Orchard Mt. - the end of my hike.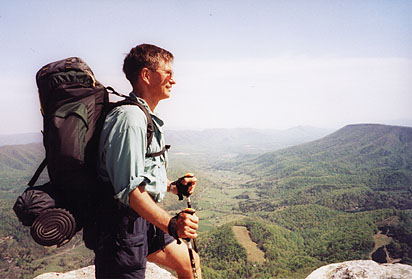 Free Spirit at McAfee Knob (3197') with tinkers Ridge and Cliffs to right.
The hiker that I met earlier came along and showed me how the AT went from here out along the ridge to the right, up on Tinker's Cliffs atop the hump, then turned and went right to the mountain with the antennas and the towns of Daleville and Troutville, suburbs of Roanoke. From McAfee Knob, Tinkers ridge went northeast in a gentle arch to the cliffs overlooking the valley then turned sharply back, heading southeast. Brushy Mountain and its Green Ridge ran northeast into the crook of Tinkers Ridge turn, with the Carvin Cove (Roanoke) Reservoir hidden from view at the base of its east side. He pointed out the dip in the ridge where Lambert's Meadow Shelter was, where I planned on spending the night. He told me about the magnificent views ahead of me along Tinker's Ridge and Cliffs. I took a series of pictures and moved on. This was the spirit lifting beauty I needed. I was so excited and thrilled by this awesome view that I was literally overwhelmed.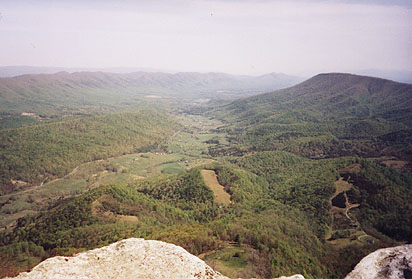 Partial view from McAfee Knob- North Mt. left, Tinkers Ridge and Cliffs right.
I passed through Devil's Kitchen, a fascinating and massive rock formation, on down to Campbell Shelter where I stopped briefly for lunch and water. I was hurrying a bit, trying to stay ahead of the scouts. Most of Tinker's ridge is 2200 to 2500 feet high with a few places offering limited views into the valley below. At the end of the ridge I climbed to 3000 feet and the cliffs atop Tinker Mountain. What magnificent rock formations, cliffs and what an awesome view. Such a view that it defies description - with words or photographs. You simply must experience it to fully appreciate it. For about a mile the AT went right along the very edge of the 100 to 200 foot high rock-faced cliffs. It is not a place for acrophobes, the unsteady, or the faint of heart. One misplaced footstep and you may hurtle off into the hereafter.
Several table rock ledges provided clear panoramic views back to Brush Mt. and the whole expanse of the Appalachians in that area. The views were so dramatic, massive and beautiful that I felt like crying. They really took you're my breath away. This was enough reward for the toils of my entire hike. The views from Tinker Cliffs overlook were the prettiest I had seen in all of the AT, equaling the clear views from Mt. Washington, NH. I was so very happy to be here. I took a few moments to enjoy the scenery and take pictures, and then I heard the unmistakable sound of a herd of scouts coming and moved on.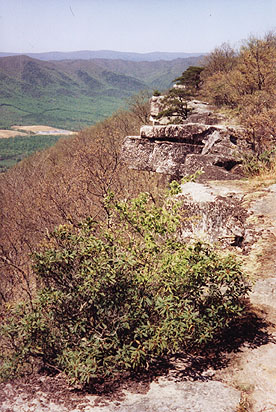 The AT - right on the edge of the cliffs along Tinkers Ridge. Don't look down.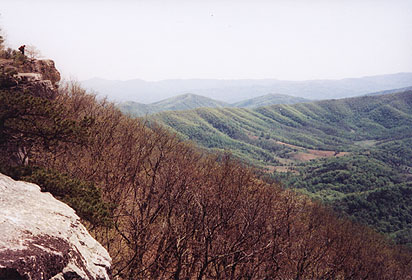 A hiker takes in the awesome view along Tinkers Ridge and Cliffs.
I am going to get the photos from McAfee Knob blown up and frame them with the trail map showing Tinkers Cliffs. As if the dramatic vistas from Tinkers Cliffs weren't enough to give the hiker a high, the ridge was a mass of wildflowers. Several varieties were in bloom and the air was absolutely heavenly with the scent of azaleas and other flowers. The photo journal I keep at home includes lots of beautiful wildflower photographs.
I was the first to reach Lamberts Meadow Shelter, located near a nice little stream. I did trail laundry, bathed and set up camp. The Pugh family, 4 nice guys out on a family hike for the weekend, joined me. MitoMan came along and filled the small shelter. Then the horde of scouts descended. They were disappointed the shelter was full. There was only a couple of decent tentsites there. We told them of a large streamside campsite only 0.3 miles further along the trail. They set up there, many of the boys sporting very sore feet and sour faces. Another hiker came along and, though the shelter was at capacity, she wedged her smelly self in without asking. Silver came along and set up a tent near the shelter. The Pugh's and I engaged in many conversations that would have been interesting and nice if they weren't repeatedly interrupted and corrected by the know-it-all lone female hiker that joined us.
Sleep did not come that night. The shelter was infested with at least one huge RAT that I came face to face with at 2 AM and lots of big hyperactive mice. The rat annoyed all of us at one point or another, having absolutely no regard for tired hikers. The crowded conditions did not help. Add to that the fact that our dearly beloved solo female snorted, snored and whistled all night in her sleep, keeping all 6 of the other of us awake, it made for a miserable sleepless night. If I had to do it over again, I too would have set up my tent or joined the boy scouts for a night. Bad stuff happens. Not everyone on the trail is likeable, polite and nice. Like the terrain, you have to take the good with the bad.

Daily Journal Entries
~ Journal Part 5 ~

Hiking Partners Wanted
Spring/Fall hikes - 15 miles/day - Contact Al.
aljohn@jmclum.com
.
Last Updated 7/05/01