Mount Washington 6288', Great Gulf Wilderness, Northern Presidentials (Mts. Clay 5532', Jefferson 5715', Adams 5798', Quincy Adams, Madison 5363' ,) Madison Hut, Osgood Ridge.
Tense with anticipation and anxious to get my hike underway, I could see Mount Washington, its summit surrounded by swirling clouds, as we drove near. It was an adventurous drive up Mount Washington's narrow and very steep toll road. John was not looking forward to the drive back down the mountain. The roadway is quite an experience. At the summit we were pleasantly surprised to have clear skies and sunshine; the clouds had blown away. It was a glorious day.
It would be two hiking days before I crossed the toll road again and went through Pinkham's Notch, a town we had just driven through, and three hiking days before I reached Gorham, where we turned off Route 2 onto 16. The trail led a very circuitous route north, down from the summit. On a map it resembled a giant "2", looping around the ridge overlooking the Great Gulf Wilderness Basin, over the northern Presidential Range Mounts Clay, Jefferson, Adams and Madison, down to Pinkham's Notch, then Up and across Wildcat Ridge, Carter and Moriah Mountains before dropping into the Androscoggin River valley at Gorham.
On the map's elevation profile it seemed simple. A short, simple hike, less than nine miles, with only 1500 feet of climbing and 5,300 feet of descent altogether. But, oh, how I underestimated it.
The descent from Mt. Washington's summit was pleasant and interesting, paralleling the Cog Railroad's tracks. As I descended, one train was headed down the mountain while another was headed up. They passed each other, one going off on a siding not far from me. The Cog Railroad generates its own exciting sights and sounds. The whistle is a shrill, melodic note that echoes across the valleys for miles. Coupled with the chug-chug-chug of the stream driven cog, it is music. The sight of a little engine and passenger car climbing the very steep grade, belching steam and clouds of dense black smoke is most impressive. It reminded me of my cog RR ride 2 years ago, a very thrilling experience.
Hiking the ridge above the Great Gulf Wilderness was awesome. The rocky sides of the chasm fell steeply away to form a giant basin, surrounded by mountains. Gorges and ravines scarred the sides of the massive crater.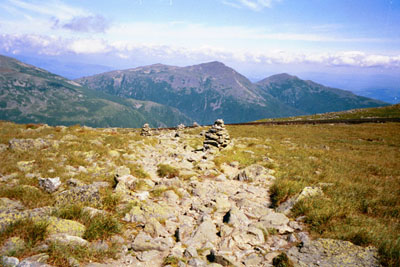 Rock cairns mark the AT as it crosses cog railroad tracks on Mount Washington and heads towards Mt. Jefferson and Mt. Adams.
At first the footing was a mix of rock and grainy, gravelly soil - more rock than soil. Very quickly it turned to all rock. Broken, jagged jumbled rocks. Along the trail itself, a nice attempt had been made to define and smooth out the trail by arranging the rocks into a more or less defined path. The lack of soil between the rocks made it difficult to traverse, the gaps between rocks just waiting to sprain an ankle or make me fall.
Madison Hut, operated by the Appalachian Mountain Club (AMC), sat nestled at the base of Mt. Madison. It offered lodging, meals, water and a place to rest. Water and rest were free. Located in the wilderness above treeline, well away from roads, supplies are either packed in by the croo (hut employees) or flown in by helicopter. Limited power is usually solar or wind generated. After a brief rest and water stop, I climbed steeply to the top of Mount Madison over its jumble of large jagged rocks. The view from the summit was spectacular, overlooking the Great Gulf Wilderness and looking up the flank of Mount Washington, with its toll road winding up the mountain, looking along Madison's Osgood Ridge and down into Pinkham Notch.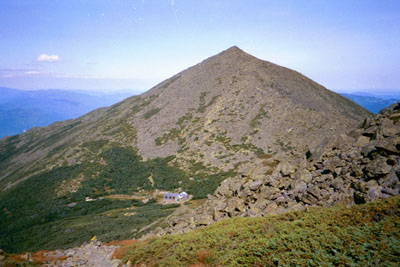 5363' Mount Madison and AMC Madison Hut.
That, and the fact that it was all downhill from here, was the good news. The bad news was that is was getting late in the day, I was tiring, and I had a very long, rocky ridge ahead of me, still above treeline, and a very rocky, steep descent after the ridge to the campsite. By the time I reached treeline, about 4200 feet, it was dusk and I was pooped. From treeline, I still had about a mile of trail and 1800 feet to descend, very steeply over rocks and roots. Halfway down I stopped and put my headlamp on as darkness enveloped the trail. Finally, about 9 P.M. , I reached camp. I was so tired my legs were trembling. I would have stopped sooner and slept in the open or pitched my tent along, or even on the trail, but there was no water, which I needed badly, and not a flat spot big enough to lie down in.
I found the campsite full, all four tent platforms occupied. One large platform had a small tent and two other hikers, a father and son on it. They made room for me and shared their platform with me. Completely exhausted, I ate got water, ate supper, set up my tent and went promptly to sleep.
I got a late start, a little after 11 AM. I should have been able to hike the 9 miles in less than 5 hours, but I neglected to account for the rough terrain, slowing me down significantly from my average 2 miles per hour rate.