I got a late start, though it really didn't matter on this "short" mileage day. I was immediately greeted with two signs on a tree: North Carolina Wildlife Game Lands and North Carolina Wildlife BEAR SANCTUARY. Ironically, the tree also contained the standard 2 x 6 white blaze of the AT. Was I being invited in for lunch? I hoped not. The weather was nice - though at 65 degrees and humid it was a little warm for the exertion of backpacking. The breeze was pleasant and saved the day. Right away I knew I'd be going through a lot of water, most of it exiting my body in the form of perspiration.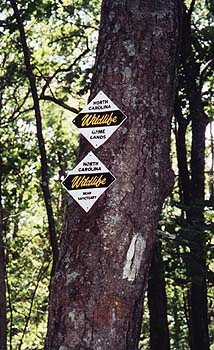 Bear Sanctuary and Game Lands welcoming signs along with AT blaze on trailside tree in North Carolina.
I started at 1400 feet elevation, a low point in the trail near the Pigeon River, and immediately climbed almost 2813 feet, then descended into Groundhog Creek where the shelter was. My hips and legs ached and I realized that my pre-hike conditioning had been far less than adequate. I struggled up the climbs, but at least my knees did not give me any problems as they had in the past. The trail itself was gentle and relatively smooth, well groomed with gentle switchbacks, and pleasant. The climbs were not steep or grueling in any way. Just continuous and tiring. I expected more of the same for tomorrow but I look forward to Max Patch - my first "bald" summit.
At several points the trail went through heavy rhododendron and pine growth, so heavy the clearing of the trail created a tunnel through the thick greenery. There was more than an abundant growth of poison ivy along the trail - the area was infested with it.
The trail guide said there was a FAA radar / radio tower on top of Snowbird mountain and a side trail to its excellent view in all directions. I hiked up there, found the tower but it was surrounded by 25-30 foot tall trees, blocking any hope of a view. It was a nice open sunny spot for lunch, though and I enjoyed my granola bar, a candy bar and a couple handfuls of trail mix. I returned to the trail and continued to the shelter.
I got to the shelter early, about 2:30 PM. Alone, I contemplated going on and pitching my tent along the trail. I decided to "take it easy" and relax here, read the trail journal and get rested for tomorrow. The first order of business was, always, to get more water - fill and treat with iodine purifier my quart water bottle and two-liter water bag. That would be enough for the evening and morning's drinking requirement. If I were near a stream or pond, I would also bath and do laundry, if time and water supply permitted. This spring had barely enough water for drinking. As I settled in to the shelter, I noticed the high white wispy clouds moving in that usually signal a change in the weather.
As I was reading the register and noting all the complaints and entries mentioning the rain that apparently fell in the area in August, two guys dressed in camo and carrying hoes came by. I was a little concerned at first because, way out here in the wilds of the AT, they had no backpack or gear save their hoes and canteens of water. I engaged them in conversation and they were friendly enough and after a while I learned they were wild Ginseng gatherers. They told me all about their paying hobby, showed me their root harvest and later showed me what a whole plant looked like.
It turns out that wild ginseng is abundant in the area, that you need a permit to harvest it from public lands, and that 3 pounds of wet ginseng root (two days work) will yield about one pound of dried wild ginseng root and bring about $300.00 on the open market. Wild ginseng is more potent and thus more highly desired than cultivated. Harvesters are supposed to distribute and plant the seed of the plants they harvest in order to assure continuation of the species. The two gatherers told me they parked their four-wheel drive truck on a dirt road two miles from the shelter. That road, among many others, did not show on my map.
After they left I consumed my super of mixed nuts, a candy bar and Yeich cookies, a quart of water, hung my food high in a tree - out of bear reach (I hoped), and went to bed for a good night's sleep. The resident shelter mice and rodents had other plans; they would scamper about, try to get in my pack, run over my sleeping bag, and generally do anything they could to prevent my getting a good, undisturbed night's sleep. Unfortunately, they were successful, being the light sleeper that I was.