With the completion of this section of trail - 301 miles from DAMASCUS VA to PETITE's GAP VA - I have hiked 1387 miles of the Appalachian Trail (AT) in section ranging from 227 to 313 miles long, from Mt. Washington, NH to Damascus VA. I have the two "ends" to do - Springer Mt. Ga to Damascus, about 455 miles, including the Great Smokie Mountains, and Katahdin Mt. Maine to Mt. Washington, NH, about 333 miles. Getting to the trail sections I have not hiked has become a major effort, now requiring a very long trip.
I refined and fine-tuned my pack for this my fifth Appalachian Trail adventure. Fully loaded before food and water it weighed a pleasantly amazing 22.75 pounds. That included all my gear and clothes, except what I wore or carried in my pocket. It included film, but not my small camera, which I carried in my front shirt pocket. Food weighed 1.1 pounds per day and I never carried more than 5 plus 1 days reserve of food due to frequent mail drops, so my maximum pack weight with food and 1 qt. of water was 22.75 + 6.6 + 2 = 31.35 pounds. That is a very light pack.,and as this journey would prove, had all the essentials I would need I carried nothing that was not absolutely essential to me. Halfway through my journey I sent back my sneakers, shaving off another 1.5 pounds.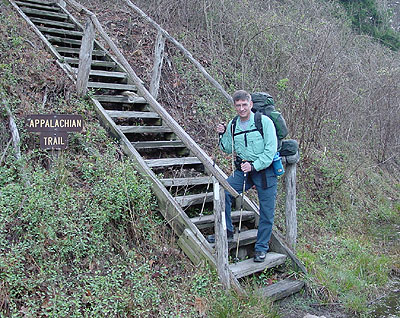 April 14, 2001 (8:30 AM)... Free Spirit (Al) at the beginning of his spring 2001 hike.
Saturday April 14 was a summer day with blue skies, sunshine and temperatures in the upper 70's. The only clue that it was not summertime was the lack of leaves on the trees. John dropped me off at the trailhead and I started my adventure. Almost immediately after climbing away from the road I came across a Great Horned owl and managed to get a photograph. It was only the second owl I've seen in the wild in my lifetime of stomping the great outdoors. Later in the hike, on May 2, I came face to face with a mink, the first one of those sleek creatures I'd ever seen that wasn't wrapped around some fur-loving woman's body.
I had a challenging task ahead of me - I had planned a full 15.6 mile hike to the first shelter with 2500 feet of climbing on a hot day. I quickly realized that I had not conditioned myself adequately for this hike. I had too many distractions such as our late winter, the cow rescue, and too much to do around home and with family. I paid dearly for my lack of conditioning.
I had three major challenges on this hike: Extreme Winter weather (two record lows were recorded for that period), three of Virginia's highest mountains (over 5000 feet) and very warm days. It was summer, winter, summer - no spring weather.
Backpacking in southernmost Virginia in the middle of April I did not expect or pack for severe winter weather. I was prepared for cold weather, but not sustained temperatures in the upper teens and 20's with snow and high wind. I never dreamed I'd be pushing through knee-deep snowdrifts on the mountain ridges of the trail. The three days and nights of cold weather drove many hikers into town for shelter in a bar or motel. The winds were up to 60 MPH on the elevations. Of course my hike timed the coldest weather with the highest elevations in Virginia - Mounts Rogers, Whitetop and Pine - all over 5000 feet high. All in the first days of my hike. See April 16-19.
But luck and ingenuity were with me. Packing as light as I could, I left my gloves and an extra fleece shirt home to save weight. I regretted leaving my gloves. But, I had enough clothes to stay dry and warm and my 35-degree rated sleeping bag with fleece liner kept me warm enough to sleep well at night when I covered it with my tent. During the coldest days I wore a polyester T-shirt, long sleeve brushed nylon shirt, wool shirt and light nylon windbreaker/rain jacket, and a wool cap. I was warm as long as I kept moving. If I stopped I put on my heavier fleece jacket. I wore my extra socks on my hands to help keep them warm.
When I got to the Thomas Knob shelter near the top of Mt Rogers (5,500 ft. elevation) it was in the clouds with visibility limited to 50 yards and high winds. The shelter was empty except for a register and an old pair of ski gloves hanging on the back wall. Trail magic was at work. The gloves were far better than the spare socks I was wearing on my hands. The shelter shook in the wind as the mercury plunged, but I slept well, alone in its loft. In the morning, it was 20 degreesF and everything outside except the bare earth and large rocks were covered with a beautiful but chilling glass-clear ice.
The next morning I awoke to 18 degreesF and fresh snow. The snow made the woods so eerily silent. Gone were the singing birds, insects, and wildflowers. I had to keep my hood up all the time to prevent snow from falling down my neck as I brushed the snow-laden branches hanging low over the trail. Snow was blowing and drifting on the trail.
I hiked to the Partnership Shelter at Mt. Rogers Headquarters, the only shelter on the trail that is equipped with hot and cold running water and a shower. The shower was frozen but the faucets out back were still working. I washed a few items and myself, hanging my trail laundry on the line to dry in the breeze. It froze stiff and I had to pack it frozen the next day. I want to the HQ visitor center and called home, had some soda. They told me a local pizza shop delivered to the front gate. Another hiker, Harry Cary, came by and we ordered pizza. A hot meal on a cold day. What a treat. Along with the pizza, I ordered a tuna sub for breakfast. It was partially frozen in the morning - but I ate it anyway.
We had more snow overnight and it was snowing and 20 degreesF when we got up. The snow drifted on the ridges knee deep in places - making hiking difficult. I tied my pantlegs tightly around my ankles, keeping snow from getting inside my boots. As we trudged north, the snow diminished. Looking to the right of the ridge we saw snow covered forest and valleys. Looking to the left, we saw green fields and woods - no snow. We were headed left, into the valley where I 81 crossed the trail. We each got a motel room. I did laundry and put my sleeping bag in a dryer - it had accumulated a lot of moisture the last three nights because the tent over it trapped the moisture. It was so nice to dry out and warm up. As we hiked down the mountain into the valley, summer returned as fast as winter arrived and by evening we were running around in sunshine and upper 60's again. For the balance of my hike, another two weeks, it was summer weather with temperatures in the 70's and 80's every day and, in stark contrast to last year's spring hike, no rain.
My gear selection had been tested to its limits, as had I. My gear served me well. I had persevered under extreme, adverse conditions and survived, yes, even enjoyed the challenge. To me, that is the challenge of backpacking - taking on the unexpected and prevailing. See Appendix C of my online journal. It details my minimalist lightweight gear and trail food.
I hired a shuttle to take me to Ceres, a remote, very quiet post office buried in the Appalachian Mountains, to get another mail drop - then drop me off at the trail. The shuttle driver was in bad shape and could not keep the car on the road. After crossing the double yellow line and nearly hitting the guardrail several times, I insisted on driving. He slept as I drove up the steep, twisting mountain roads to Ceres then on to the trailhead. See April 18 - 19.
The majority of the hike was almost mundane. Hike up a mountain and follow its ridge, descend and climb its gaps, and follow the ridge. Unlike the White mountains of NH where there are no trees above 4,000 feet, the mountaintops and high ridges of Virginia's Appalachians are heavily wooded and views are limited to a few overlooks and clear rocky areas known as balds. The one challenge was making sure I had enough water. The warm weather and exertion required large amounts a drinking water. I found myself drinking 8 to 10 quarts of water daily. A lot of time was spent obtaining water, generally not available on the high ridges. But, I never experienced a shortage. When necessary, I could carry three quarts of water. I usually carried one quart and drank heavily when at the shelters or other water sources. It was much warmer than it should have been that time of year, and much warmer than I liked it for backpacking - but, I preferred it to rain or snow. A couple of times I was near a good sized stream, I took advantage of it to refresh myself with a very cold skinny-dip. Cold water and hot air - I dried very fast.
As I climbed Chestnut Knob (4409 feet) the clear air after the cold front came through, I was treated to a magnificent view of the Appalachian Mountains on one side and Burkes Garden, a fertile and beautiful valley below. The shelter on top, a former fire warden's stone cabin, had its roof strapped down with steel cables to keep it from blowing away. A small troop of Boy Scouts was there on a 50-mile hike. They were great kids and shared their bounty of baked goods with me - a welcome supplement to my trail food. See April 19-20.
The most extraordinary and unusual event of this trip, for that matter my entire AT hiking experience, took place on the 3,500 high ridge of Sinking Creek Mountain, a nearly solid rock ridge of sharply slanting stone the trail goes over. As I gingerly navigated the steeply sloping solid rock, I came unexpectedly face to face with three feral goats. Clearly, this was their turf - but I needed to go forward and they were blocking the only way. They came up to me and got what they wanted - the salt from my body. They licked every inch of exposed skin on my arms, legs and torso. After I got over my shock, I enjoyed petting and photographing them. I was at least 3 miles from the nearest farm, which would have been at least 1500 feet down in the valley below. Afterward, I learned that these goats were a regular feature of this section of trail, had been there for years, and had licked nearly every hiker that came by. Evidently they had a high need for salt and hikers had plenty to spare. That is adaptability. It was truly a unique experience. See April 27.
Excitement was also provided by the USAF along the ridges south of Roanoke. They were doing maneuvers or training of some sort - perhaps radar tests for offshore ships. They would fly their delta wing jets up to the ridge at about 500-1000 feet above the trees and turn and accelerate sharply as if on a bombing run. It was very exciting, impressive and noisy.
As always seems to be the case, the people I meet on and along the trail seem to be a major highlight of my adventure. I met a lovely enterprising family on a road crossing, in a red-roofed farmhouse adjacent to the trail that sold cold soda, candy, ice cream, canned goods and similar hiker needs off their front porch. They dished out large amounts of old-fashioned hospitality, even to smelly hikers, and bent over backwards to be nice to the hikers. At the Homeplace restaurant in Catawba, I enjoyed a great meal and spent the night under their gazebo, at the invitation of the owner. He invites any hiker to stay or camp there. See April 27-28. And the other hikers - what an interesting mix of people - all with a different reason for hiking the trail, all enjoying their own hike. I met three that were "early retirees", thanks in part to recent stock market successes. I met one couple that was to be married at the end of their hike and one couple on their honeymoon. I also met plenty of the usual "youngsters" that were finding direction in their lives or just having an adventure before settling into the workday world or similar rut. See Appendix D - Quoteworthy Shelter Register Entries. Two entries from this hike:
4/10/01 Lost Mountain Shelter entry: Water……Water……I'm going to have to get used to this heat! The first thing I learned on this wonderful 80 degree + day is not to take water for granted. …..At one point I was wondering if my water filter worked on urine. Luckily, that was about the time I stumbled upon this fine shelter. Off to find the spring. PURTON MAGIG
4/11/01 - Lost Mountain Shelter entry: Suddenly its that time of year when thoughts turn from " I wonder how cold body parts can get before they fall off" to "Boy, my ass sure sweats a lot." Usually there's a season between winter and summer, not this year. CITRUS
Note that through hikers coming north from Springer Mountain GA experienced severe winter weather in the Smokies in March with lots of heavy snow, then hot summer weather in early April. There were dozens of shelter register comments on the extreme weather. Many sent cold weather gear home in early April only to get caught again in VA with winter weather in mid month and no cold weather gear. FreeSpirit
Cast of Characters - only a partial list - and boy, were they characters! Ox (UK), Harold/Harry Carey, Corndog, Grunt, Pugh family, Moto, Silver Nipples, Midoman, Coach, Sugar Bear, Dusty, Zach, Kineo, Big Bird, Bookworm, Caboose, Mailman, Brian and Michelle, Alan (DDS) and wife (ME), Bishop, Jeff (teacher) & GF, Night Train, Charley, lucky ted and Nature Girl, Old men of the Cloth (6 guys), Mr. Pat, Spur, Jamie Dolan and wife, Linde, Skid, Curt, Wrong Way, and lots more whose names have escaped me.
GREAT PLACES - along the trail: Troutdale bank, trading post. Catawba Homeplace Restaurant and very friendly Catawba post office, Red Roof farmhouse and family at the Route 42 trail crossing, near Huffman VA, friendly Post office at Pearisburg.
The most exhilarating experience was 3,250 foot McAfee Knob and 3000 foot Tinkers Cliffs overlooks. From McAfee knob, I stood atop a rock platform and looked out over an unforgettable expanse of mountain and valley. A local hiker pointed out the route of my next two days hikes - along the ridge, across the edge and tops of Tinker's Cliffs, into the shelter in the gap, and along the ridge into Daleville and Troutville. It was awesome - seeing the trail laid out before you, comparing it to the map and knowing you will walk those cliffs and ridges later today and tomorrow. The trail went right along tinker's Cliffs and their sometimes 100 foot straight-down edges. At times narrow, it was no place for someone with a fear of heights or unsteady legs. There were places I had to cross crevasses in the rock or venture out onto a table rock. The views there were so magnificent they nearly made me cry. And I had the great fortune to be there on a clear, crisp, sunny day. Looking back to McAfee knob from Tinker's Cliffs was equally rewarding - I had been there - on top of that knob's rock face - just hours ago. The whole experience puts long distance backpacking in perspective and is adequate reward for all your toils, inconveniences, sweat, and hardships. See April 28-29.
Yet another reward was the profusion of wildflowers in bloom along the trail. The showiest were the pink lady slippers and pink and white trilliums and the Pinxter and white azaleas. Violets grew profusely along the trail, along with hundreds of other species of wildflowers and tree blossoms. The air was rich with their mingled scents, an absolutely heavenly aroma - the scent of Spring and earth. I am fortunate to have many photographs of the beautiful flowers. I saw and photographed lots of the wildflowers and I am putting them in a separate section in my photo journal.
All in all it was a challenging, successful, rewarding backpacking trip. These adventures always accomplish one thing. They make me realize THERE IS NOPLACE AS SWEET AS HOME. Home, sweet home. Many thanks to Jim Yeich - an AT veteran, good neighbor and friend - for the ride home from Virginia.
If ever in Northeast PA, you may arrange to see this or another photo journal with all my trail photos, maps, and daily details. Contact me by e-mail: aljohn@jmclum.com