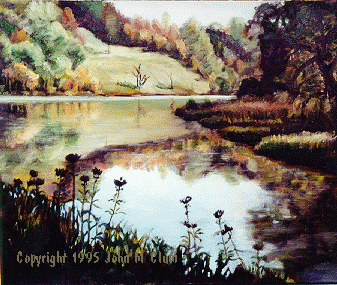 ITHACA, NEW YORK We love hiking SIX MILE CREEK NATURIST AREA, a wonderful place for nice people. Our choice for the nicest place in the Northeast - too bad its in TAX HELL New York State. Otherwise, Ithaca is a fantastic community. GORGES and waterfalls galore, hiking paths, beautiful parks (some free), art galleries, a neat pedestrian COMMONS area downtown, a fascinating Collegetown and Cornell and Ithace colleges, and the main attraction: 1&1/2 mile wide, 40+ mile long and 300+ foot deep, sparkling CAYUGA LAKE. Hanging out downtown or Stewart Park (free) on the lake is among our favorite things to do, Fantastic Farmers Market and don't miss the annual festival. Spectacular Ithaca Falls and many others nearby are free. Wonderful State Parks: Buttermilk Falls and gorge trails, Taughannock Falls, gorge, trails, camping, and lakefront, Treman Marina, Robert H Treman (Enfield Glen) falls, gorge and trails, camping. Lots of nearby WINERIES and tours.
SEDONA, ARIZONA and the Grand Canyon, as well as Colorado Springs, CO, and the mountains of Montana and Wyoming. The West has incomperable beauty and wilderness areas. Also, many of John's relatives are living there.
COCOA BEACH, FLORIDA - miles of sandy beaches and the right environment. for our annual Dec-Jan vacation to the Atlantic Ocean. When we are both retired we plan to live in Cocoa Beach in the winter, the mountains of Pennsylvania in the summer. About eight years ago we bought a condo in Florida.
PROVINCETOWN, MASS. is one of our favorite destinations. John displays art in the galleries there, we stay in a great non-smoking guest house (perhaps the only one in p-town), Trevor and Stephen's Beaconlight and we love the ALL NATURAL beaches there. Provincetown is unique in its diverse culture and openness. If you enjoy classical music you might want to catch "Outermost Concert Hall" live online with Stephen Mascillo. It's on WOMR 92.1 FM from 1 - 4 P.M.every Tuesday. Stephen gives his time to the local community radio station so he can share his knowledge of and passion for classical music.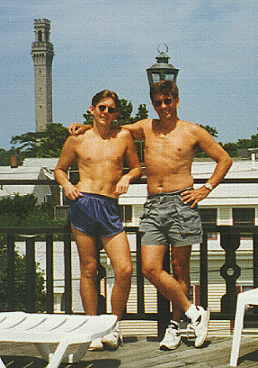 John (left) Al (right) on the top deck of the Beaconlight Guest House in Provincetown about 10 years ago.
HAMPTON BEACH
and Portsmouth, New Hampshire - (tax heaven.) Miles of sandy beaches, tax free shopping areas, the annual seafood festival, great places to eat, nice New England folks, especially the proprietors of The Oceanside Inn. This inn is one of the nicest places in the world, run by two of the nicest people in the world, the Windemillers. More of the Atlantic - along with New Hampshire's rugged mountains.