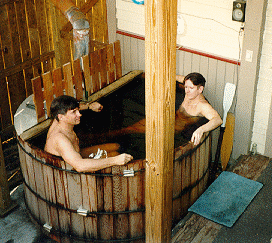 Al & John enjoying the Hot Tub at it's old location.
Table Rock Refuge offers us the privacy, space and beauty to entertain and host our friends that also enjoy naturisim.
Our all-natural wood fired HOT TUB is the perfect place to RELAX when a sandy beach or wilderness hiking trail is not nearby. Nothing is more soothing than 104 degree water the sound of the wind in the trees and birds singing..