Free Spiritís ( Al's )
Appalachian Trail Journal

NH,VT & MASS- Part 4
This hike in memory of
Dug Brink
Steve Brown
Bob Stoegbauer
Three fine young men whose lives were cut tragically short.
Dates .... Sunday September 10 through Saturday, Sept. 30, 2000
Miles .... 302.6 miles total
From .... Mount Washington, NH ( Southbound through VT and MASS )
To ......... Mass Turnpike

Overview
This adventure was a southbound trek on the Appalachian Trail as it ran through the White Mountains of New Hampshire, the Green Mountains of Vermont, ending in Massachusetts' northern Berkshires. Somewhere in the middle of Vermont, near Sherburne Pass where the Appalachian Trail (AT) and Vermont's Long Trail (LT) run together, I attained my 1000th trail mile, somewhat less that half the total AT trail length of 2160 miles, more or less.
I hiked over Mt. Washington (6288'- descent only), Mounts Monroe (5385'), Franklin (5004'), Eisenhower (4761'), Pierce (4310'), Tom (4047'), Guyot (4560'), So. Twin (4902'), Kinsman North (4293), Kinsman South (4358'), Wolf (3478'), Blue (4530'), Moosilauke (4802'), Cube (2911'), Smarts (3240'), White Rocks (2680') and Moose (2300') in New Hampshire, Mounts (or peaks as they are often called in VT.) Pico (3957'), Killington (4235'), Baker (2850'), Bear (2210'), Peru (3429'), Styles (3394'), Bromley (3260'), Spruce (2060'), Stratton (3936'), and Glastenbury (3748'), in Vermont, and over Mounts East, Williams (2951'), Fitch (3110'), and Greylock (3491') in Massachusetts. I climbed a lot of mountains.
I hiked, and hiked some more, putting in mile after mile after mile. Hiking is what you do on a long distance AT backpacking trip. Hike mile after mile until you reach shelter or can hike no more.
I tried some radically different approaches to make my pack lighter and, hence, my journey easier, while still being prepared for "the worlds worst weather" on top of Mount Washington. To lighten my pack I did not carry a stove, fuel or cook gear except for one very lightweight 3-liter aluminum pot. For food I depended on power bars and pop tarts for breakfast, powerful trail mix, granola bars and candy bars for daytime body fuel, and nuts, cookies and candy bars for an evening meal. And, whatever I could get "off trail" along the way. If I hit on a good food source, such as a restaurant, hot dog cart or sub shop, I would eat my fill and get two or three meals worth of sandwiches or food "to go". This worked great, giving me a variety of foods. Surplus "trail food" that I then had in my pack would be left hanging at the next shelter or donated to other hikers.
To further my minimalist approach, I left my 2 pound water filter home in favor of a four ounce bottle of Polar Pure crystals which purified water with an iodine solution and worked very well. I did not skimp on clothing but focused on maximum warmth for minimum weight - quick drying nylon and fleece that could be worn in layers. In fact, I had more and warmer clothes than I had ever carried before. This approach saved my sorry ass on top of Mount Moosilauke (details to follow.) I purchased a new internal frame pack, selecting carefully the Camp Trails Shasta 65 for its good fit, adjustability, capacity and light four pound weight. I shed even more gear that I did not use/need on previous treks (flare gun & flares, etc.) and got my pack weight down to a very respectable 32 pounds with one week's food and one quart of water. I pared that even more by arranging a resupply in the middle of the first week thereby reducing the food weight by three pounds and total pack weight to 29 pounds. The minimalist pack worked fine; I had all the gear and food I needed. Gear and food are discussed in detail in appendices A and B.
SEE APPENDIX C - LIGHTWEIGHT BACKPACKING - THE MINIMALIST APPROACH
I preceded my journey with a decadent vacation stay at New Hampshire's finest oceanfront B&B, The Oceanside Inn in Hampton Beach. From there, a very early morning ride to Mount Washington's Cog Railway Base Station. I was first in line waiting for the ticket window to open, full of as much anticipation as a little boy facing his first horseback ride. It was a crisp, cold mountain morning. A couple of days ago the mountain's temperature plummeted to the lower 20's.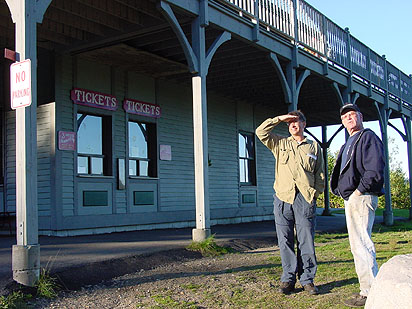 Waiting for the ticket window to open
Let me digress back 20 years to my first trip to Mount Washington. I wanted very badly then to take the Cog rail to the summit but could afford neither the ticket price (for two) nor the time. I always had a fascination with mechanical devices and this little coal fired marvel that climbed mountains grabbed my attention from the first time I ever saw or heard of it. Subsequent trips found me wanting but not able to take the Cog. I did drive to Mount Washington's summit at least twice, though. Even in summer, it was always cold, windy, and usually foggy, damp or wet. I never saw a clear view from the summit in my several trips there. But I did hear and read of the many horror stories of sudden changes to bad weather on its summit. So, I was prepared for winter conditions in September.
I decided that this was the time to take the Cog to the mountaintop. No matter what the weather, I was going to make it part of my hike. So, I'd just take whatever Mother Nature and New England's highest mountain had in store for me. I was fully prepared for the worst, and in fact expected it. For two weeks prior to my vacation I had been monitoring conditions at the top. They had fog and temperatures in the 20's and 30's every day - usually some hefty wind, rain, and snow thrown in. I was prepared to be miserably cold and wet. It was nothing new to me, quite possibly just colder and wetter.
So imagine my surprise and pleasure as I stood on the platform, the hissing of steam and rushing of a mountain stream in the background, amidst calm, clear blue skies and an absolutely rare unobstructed view of the summit. I hoped the weather held until we reached the top. I was literally shaking with excitement and anticipation. The little kid in me was trying to burst out all over. We boarded and I got the best seat in the house - front corner window. At precisely 9:00 A.M. the whistle blew, the brakeman hopped aboard and the cog lurched into motion, chugging its way up the mountain. I was thrilled beyond description for every one of the 75 minutes this truly unique little mechanical wonder, this marvelously traditional piece of antiquity and historic technology, took to deliver me to the 6288 foot summit of Mount Washington. And I was embarking on an exciting, long awaited journey of my own, too - another AT backpacking adventure.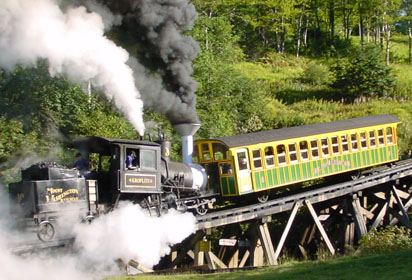 The beginning of an adventure: With Free Spirit on board, the Cog Rail chugs its way up Mount Washington.
Delivered to the northeast's highest point in incredible style, I quickly mounted the summit and stood for moments in breathless awe at the view which was absolutely clear and haze free all the way to the Atlantic Ocean. It was in the 50's with just a hint of a breeze. I couldn't ask for better weather. I quickly toured the summit building, sent a few postcards, grabbed a couple hot dogs, and hit the trail. This was my first ever hiking experience above tree line and it was so nice - much nicer in fact than many miles I had put in at elevations many thousands of feet lower.
The nice weather notwithstanding, New Hampshire's White Mountains put me in my place in a hurry. I knew that the steep climbs and descents to the higher mountain elevations would cut down on my daily trail mileage so I pared my expectations from 15 to 12 miles a day. In most cases it was a real challenge to make anywhere near those miles in the Whites. I learned that it takes me about an hour to climb or descend 1000 rocky feet of steep elevation. In the Whites, you spend more time climbing or descending steeply than normal and it is far more strenuous than the usual woods trail. And the rocks - oh my God, the rocks! Take the worst Pennsylvania rocky trail, make the rocks bigger and rounder, and run the trail steeply up and down both sides of a 4000 to 6000 foot mountain and you have the Whites. Add wind and rain to the experience, making the rocks very slippery. I was so thankful for my lighter pack and new trekking poles.
While the challenge, effort and exertion were far greater, then too were the rewards. When the weather permitted, the views from the mountaintops were phenomenal, unforgettable, and awe inspiring. Even when the weather was bad, it was not everyday you could stand on a mountaintop and be in a cloud. THAT was an experience not to be forgotten. There were no man made sounds on the mountains - just the wind whistling through the trees, birds and sounds of nature. The air was fresh and clean, laden with the heavenly scent of balsam fir trees that grew in the higher elevations below treeline.
Along with he climbing and challenges came another new experience - the Appalachian Mountain Club (AMC) hut experience. Huts are strategically located through the Whites by AMC to lodge hikers, for a fee, minimize environmental impact by focusing hiker concentration in certain areas and restrict camping. I stayed at two huts - Galehead and Lonesome Lake, and visited three others - Lake of the Clouds, Mizpah Spring, and Zealand Falls. Huts provide water, a slab bunk, a couple of blankets and a pillow, toilet facilities (no showers) , and hearty family style dinner and breakfast. Food and supplies are carried in (backpacked for miles) by hut personnel to the huts remote locations. Bigger supplies like propane and bulk food supplies are helicoptered in.
Family style means just that - everyone there is "family" - all hikers, for that is the only way in. The social atmosphere is just like a trail shelter but cozier. Each hut is unique. Galehead had a wind and solar power system, Zealand Falls had the neatest water supply system I ever saw, using water from the nearby Zealand Falls and stream to power a modified hand type well pump. Waterpower transmits through a series of belts and pulleys to raise and lower the counter weighted pump handle, and pump water from the well to the hut. It looks like Rube Goldburg but works great. Lonesome Lakes hut uses propane gas lights and solar power for its minimal electric requirements. All the huts are very functional, rustic, charming and comfortable.
Mount Moosilauke (4802'), Indian for "high bald place", is really made up of two mountain summits - the namesake and the lesser-known Mt. Blue (4530'). Together they make up three miles of trail above treeline and they nearly proved my undoing. I climbed Moosilauke in two stages. The lower north trail along Beaver Brook gorge is a series of spectacular cascades, extremely steep, challenging and treacherous. It was equipped in many places with ladder steps imbedded in the rock face and iron grab bars to keep hikers from falling into the gorge and to make the sheer, at times near vertical rock face climbable. It leads to Beaver Brook Shelter about halfway up, where I spent the night. The upper half to the summit, which I climbed the following day, is not terribly steep, just rocky. The summit itself is a mild incline.
Overnight a storm moved in and I chose to continue the climb over the summit the next morning despite the bad weather. Others waited out the storm while some headed north and tackled the fearsome lower trail along the gorge. No one went over the summit with me. It was just me, the mountain, and the storm.
Quote from AT NH-VT Guidebook, which I evidently passed over: "Use caution when traversing the Cliffside section of the Beaver Brook Trail. Mt. Moosilauke is above treeline and subject to the full force of violent storms. "
Judging form the maps and elevation profiles, I thought had the worst of the climb, the Cliffside section along Beaver Brook, behind me. Indeed, as far as steep climbing, I did. But for some stupid and nearly disastrous reason I thought Mt. Washington was the only mountain in the region that had killer weather on its summit. I was terribly, terribly wrong. The ascent from the Beaver Brook shelter to treeline, at 4200 feet in most places, was wet and moderately windy with gusts in the 40 MPH range. I was thoroughly soaked and sweating profusely when I reached the scrub treeline at Mt Blue. Rain was blowing sideways in huge drops.
As soon as I stepped out of the cover of the trees the wind blew fiercely and steadily at 70 to 80 MPH across the trail. Visibility was less than 50 feet as the rain changed to icy cloud mist. To make matters worse, I had to remove my eyeglasses, as they were useless in these conditions. All the heat my body had built up from the climb was instantly sucked away as I was hit with the frigid chilling blast. I had to fight and struggle to keep upright and stay on the trail, now marked by rock scree and cairns. The exposed skin on my hands and face numbed quickly. If I did not have my trekking poles to stabilize me in the wind, I would have had to crawl over the two-mile long bald and inhospitable summit on my hands and knees.
I knew I had to put on more clothes or risk severe hypothermia as I was already shivering violently. I ducked behind a large rock cairn to cut the wind. As soon as I opened my pack the water poured in. Things inside stayed mostly dry because of the plastic bags I kept things in but the clothes I took out to put on were soaked before I could get them on. Crouching low behind the rocks, I put my waterproof chaps over my soaked pants, put gloves and a heavy fleece jacket on to help cut the wind and retain my body heat. I put my rain jacket and pack back on and stepped from behind the rocks and was immediately blown over, face down onto the rocks.
I struggled to my feet and leaning 45 degrees into the wind fought my way across the rest of the summit. The wind kept trying to blow me over and rip the pack off my back. The scree trail led to a large rock pile on the very top where three trails converged and the AT changed direction. As the wind howled and pelted me with icy mist, I tried to read the signs that were there to keep me on the right trail, the AT. I struggled over the summit to treeline on the south side of the mountain after enduring the frigid blast for 45 minutes. I descended for an hour before I regained my body heat. Then I stopped and poured the water out of my boots, wrung out my socks, clothes and gloves, ate a couple of candy bars and continued on to a most welcome hostel in Glencliff, NH - my first mail resupply point.
The hostel was an airy barn/shed with mattresses on the floor, a clothes dryer and showers. It was full - full of hikers waiting for the weather to clear before they climbed Mt. Moosilauke. Smart hikers. All in all it was a good time and a nice place to dry out, call home, do laundry, and organize my mail resupply. Late afternoon thunder and lightning ushered in a cold front and clearing weather. The next morning I headed for Mt. Cube and the Hexacuba Shelter; the others headed north, up and over Mt. Moosilauke.
If you read my journal from last fall's hike you may recall the ordeal of Hurricane Floyd's remnants (9/15 through 9/17/99) when I was stranded in Glen Brook shelter on Mt. Everett, MA. One year later TO THE DAY I met Panama Red and his dog Elvis at the Hexacuba Shelter. He had been with the group I met just before climbing Mt. Everett and storm Floyd hit. He chose to wade out and was stranded (?) in an Irish bar for four days. I never saw him after the storm until now and here he and Elvis are at Hexacuba. Amazing coincidence. We had lots to talk about around the warm campfire.
Hanover NH is a popular trail town. The AT runs right through its main street. It is also a college town and for many weary hikers a required rest and beer stop. I planned to shop at the outfitters and get a good meal and some food to go, and call home. Having done just that on a nice sunny afternoon, I walked out of town toward Vermont. Making a long story short, I took a wrong turn in town and walked about 4 miles before a very nice NH State Trooper came along, straightened me out and gave me a ride back to where I missed the trail. Duh! See? I do belong in the woods. I get lost in civilization!
I hiked to the Happy Hill Shelter in Vermont, just over the line from NH with four sauerkraut hot dogs in my pack - two for dinner and two for breakfast. I cannot say for sure, but the scent of kraut dogs may have drawn the pack of coyotes that circled and howled all night long. At any rate, they didn't bother me - I actually found it interesting listing to the distant and near by howling and the yipping of the kits. I dozed off to sleep but was awakened from time to time by the hooting of a nearby barred owl or the coyote's howls when they were real close. Vermont has so many coyotes in its northern mountains that they are a real problem for residents and farmers.
One of the many high points of this adventure was a stay at privately owned Lookout Cabin, of Lookout Farm, VT. It is a rustic simple little cabin built on top of a mountain where a fire tower once stood. It reminded me very much of my own log cabin in the woods. Lookout Cabin has a rooftop observation deck and is open to hikers as long as the farm's owners or guests are not using it. I was treated to a gorgeous sunset from its deck just before I went to bed. I could see 330 degrees of mountain horizon. It was a breathtaking location. It rained that night and I was awakened to the thump - thump - thump of large drops of water leaking through the roof onto the floor below. On the edge of the trees outside the front entrance it had a huge wasp nest - bigger than a basketball. I decided to relieve myself elsewhere.
Sherburne Pass VT. was my second resupply stop, about halfway through my adventure. The Inn at Long Trail, near Killington, was hiker friendly and had everything a weary hiker needed - shower, pub and dining room, laundry and a soft bed. I had a nice time socializing with a pair of hikers from France over an excellent meal of shepherds pie, mashed potatoes, wine and apple crisp. I ate a hearty breakfast during a rain squall, mailed my broken trekking pole back from the very unfriendly Killington Post Office, and took on Pico and Killington peaks. Much of the trail in Vermont parallels or crosses beautiful mountain streams and rivers and many ponds. And much of it is a sea of mud, especially southern VT, even in the higher elevations. It must have been a very wet, late summer in VT.
Moose evidence was everywhere along this whole hike, especially heavy in eastern Vermont. I saw lots of tracks and piles of dung, even at the higher elevations, but no moose. I also saw lots of bear sign and heard a bear trying unsuccessfully to get into our food bags, which were hung high in the trees, but saw no bear. I only caught the fleeting glimpse of two whitetail deer flags as they bounded away in VT., but I saw lots of snakes this trip. The rat snake was the largest; I saw two of them, several garter snakes, and two Eastern Smooth Green snakes, all harmless and cute.
Besides the couple from France, there was an older man from Lithuania, a young woman from Israel hiking the trail alone, two Germans, and two pair of hikers from the UK. Our AT is unique and our country is unique in the amount of wilderness it offers along a relatively developed trail. Almost all the foreign hikers I came across had read extensively about the AT on the Internet or books and almost all had read Bryson's A walk in the Woods. The AT is an American gem.
I also encountered two "trail bums" (for lack of a better term) that were hiking and scrounging their way along the trail, living off the generosity of other hikers and whatever they could cadge along the way. One was an extremely interesting character, a former bicycle messenger from NYC. The other an ill equipped young lad trying, and failing, to make it south before the bad weather set in. The young man was really just using the AT as a path to get away but I think he did not even know from what or to where he was traveling. I was happy to meet them and be able to help them both out.
It was a never ending challenge and adventure from the moment I stepped aboard the Cog Railway at Mount Washington, NH until I met up with Jim Yeich over 300 trail miles later at the end of my hike near the Massachusetts Turnpike. Many thanks to Jim, my trail mentor and a fine friend, for giving me a ride home.
SEE APPENDIX D - QUOTEWORTHY SHELTER REGISTER ENTRIES.
Cast of Characters - and characters they were: DDT, Shark Bait, Bill, Soleman, Graylock, Hoppin Hoosier, Slowfoot, Screamer aka BO, Panama Red and dog Elvis, Nitta (Israel), Slackjaw, Pappy (Lithuania), Dick and Dave (UK), Walker, Flavian, Animal, Bellows, Hmmmmmmm, Matchbox, Pepperhead, Fun Gal, Jane, Jolly Jim, Just Plain John - and many many others.
If you really want to understand what drives someone like me to leave all the comforts of home and loved ones behind and head for the trail, you simply must experience the joys and challenges of long distance wilderness backpacking and being an integral part of nature for yourself. Lace up your boots, shoulder your pack and hit the trail.
I have hundreds of color photographs taken on my Appalachian Trail adventures; each backpacking trip resulting in a detailed journal with hundreds of photos. My appendices are summaries of experience and learning derived from the refinement of my backpacking experiences. Perhaps, after I complete the Appalachian Trail, an AT Backpacker's manual will follow.

Daily Journal Entries
~ Journal Part 4~

Hiking Partners Wanted
Spring/Fall hikes - 15 miles/day - Contact Al. aljohn@jmclum.com.
Last Updated 9/22/2000